Link to this page: https://www.socialistparty.org.uk/issue/538/6182
From The Socialist newspaper, 18 June 2008
Leeds: Stop Beeston post office closures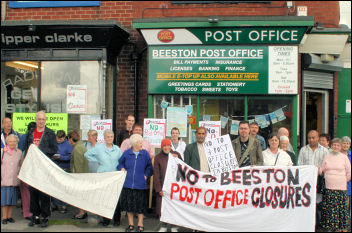 Leeds protest to stop Beeston post office closures, photo Nigel Poustie
The Leeds Socialist Party branch has been campaigning against the closure of three post offices in Beeston. We have done several stalls in the area and had a good response.
Last Monday morning we staged a protest outside one of the post offices set to be axed, at which over 40 people took part.
Concerned individuals, the local hairdresser, community groups, older people and other left activists all took part. Everyone shared a common concern for the elderly and disabled people who, if the proposed closures took place, would be severely inconvenienced.
This campaign has already captured the support of many local people. The branch is now holding a public meeting on building this campaign, with lots of people already planning to attend.
Nigel Poustie, Leeds Socialist Party
Why not click here to join the Socialist Party, or click here to donate to the Socialist Party.
---
In The Socialist 18 June 2008:

No! to racism: Yes! to decent jobs, homes and public services

No! to racism: Yes! to decent jobs, homes and public services

Unite and fight against racism

Protest at BNP 'hate festival'

Let AmDani stay!

conference
---
International socialist news and analysis

Lisbon Treaty 'No' vote delivers major shock for political and big business Establishment
---
Socialist Party campaigns

Shell drivers strike

David Davis - sanity or carving a position?

Greater Manchester - save your post office

London protest over Rajapaksa's dismal human rights record

Stop big business polluting our environment
---
Education

Stop New Labour's divisive school academy plans
---
Socialist Party NHS campaign

NHS: Polyclinics - Stop this backdoor privatisation

PFI - a very bad deal for the NHS

Reopen the battle on NHS pay
---
Socialist Party campaigns

End the occupations

Unison conference: Angry delegates attack leaders
---
Post office closures

Leeds: Stop Beeston post office closures
---
Socialist Party workplace news

National Shop Stewards Network Conference

CWU's link with Labour hotly debated

Victory against bosses at Keele

Workplace news in brief
---
Home | The Socialist 18 June 2008 | Join the Socialist Party
---