Link to this page: https://www.socialistparty.org.uk/issue/541/6249
From The Socialist newspaper, 8 July 2008
UK economy sliding into recession
THERE HAS been a raft of economic data in recent weeks showing the continuing decline in the UK and world economy but Alistair Darling says there is nothing to worry about!
Jane James
At a press conference last week he reassured us that: "The economy will continue to grow" and that the worst of credit crisis is over. Tell that to ordinary people struggling to make ends meet!
In contrast, an economist at Capital Economics declared that: "The economy has already ground completely to a halt" and there is "an increasing chance that the UK falls into outright recession."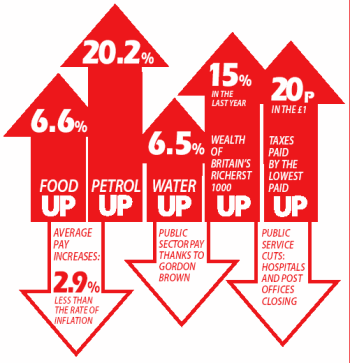 Cost of living - from a Campaign for a New Workers' Party leaflet
It is almost a year since the collapse of the sub-prime housing market in the US which triggered the financial and economic crisis now impacting on the UK.
Retail is in decline, with large stores such as John Lewis reporting sales down 8.3% and Marks and Spencer's sales and profits falling fast. Big business is wringing its hands because people are spending less while urging wage restraint, supposedly to keep inflation down!
We are seeing Karl Marx's analysis of capitalism being borne out. He argued that under capitalism, ultimately, the working class cannot afford to buy back the goods it produces, leading to periodic crises.
UK households are 15% worse off than they were five years ago according to auditors Ernst & Young. The AA reports that the rising cost of fuel has led to low-income groups using their cars less with the prospect of not being able to afford a car at all.
Housing crisis
The housing sector is in trouble as sales of homes have fallen by over 50% and buying a home becomes more difficult as mortgages are harder to get. 3,200 building jobs have been axed in just seven days with Barratt and Taylor Wimpey laying off almost 2,000 workers between them.
Yet Shelter workers are predicting council house waiting lists rising to two million by 2010. What an indictment of capitalism that while millions of people suffer homelessness or overcrowding, building workers are being laid off!
Clearly, housing is far too important to be left in the hands of private companies and the vagaries of the economy. The Socialist Party's call for nationalisation of the building industry under democratic workers' control and management will become increasingly popular.
While most people are struggling to pay ever-rising fuel bills, higher food and housing costs, a rich minority are feeling no pain at all.
As shares fell worldwide last week, reflecting increased worries about the economy, Warren Buffett (the world's richest man) boasted that he has £35 billion spare to take advantage of the ailing stock market by buying up companies while they are cheap.
Banking conglomerate Goldman Sachs has raked in $600 million by making money out of raising capital for financial institutions suffering credit losses.
The chair of the Treasury Select Committee, John McFall, believes there is $260 billion of speculative money in the oil futures market which is contributing to record oil prices.
These obscene sums give a glimpse of how a socialist society could give everyone a decent standard of living if the wealth created by working people was used to meet the needs of all instead of providing the super-profits of a few.
Donate to the Socialist Party
Finance appeal
The coronavirus crisis has laid bare the class character of society in numerous ways. It is making clear to many that it is the working class that keeps society running, not the CEOs of major corporations.
The results of austerity have been graphically demonstrated as public services strain to cope with the crisis.
The government has now ripped up its 'austerity' mantra and turned to policies that not long ago were denounced as socialist. But after the corona crisis, it will try to make the working class pay for it, by trying to claw back what has been given.
The Socialist Party's material is more vital than ever, so we can continue to report from workers who are fighting for better health and safety measures, against layoffs, for adequate staffing levels, etc.
When the health crisis subsides, we must be ready for the stormy events ahead and the need to arm workers' movements with a socialist programme - one which puts the health and needs of humanity before the profits of a few.
Inevitably, during the crisis we have not been able to sell the Socialist and raise funds in the ways we normally would.
We therefore urgently appeal to all our viewers to donate to our Fighting Fund.
---
In The Socialist 8 July 2008:

Striking back against low pay
---
Campaign for a New Workers Party

The working class needs its own party

CNWP conference: Wanted - a new mass workers' party
---
Socialist Party news and analysis

UK economy sliding into recession

Rich get richer: Why should we pay the price!

MP backs student fees campaign

Bonuses for chiefs, pay restraint for civil service workers

Government lies on public-sector pay

High farce from Boris Johnson

G8 leaders' 'world hunger' banquet

On the other side of the financial divide...
---
Socialist Party NHS campaign

Defend the NHS!

Property deals threaten private nursing homes

Cancer vaccines: who decides?
---
Marxist analysis: history

Terry Fields: A socialist voice that rocked Whitehall
---
Socialist Party LGBT

Marching against homophobia & racism
---
Socialist Party workplace news

Argos warehouse workers vote to strike

DWP strikes bring talks

National Shop Stewards Network Conference: Organising migrant workers

A day in the life of a call centre worker

Call centre charter: A framework for workers' rights

RMT conference discusses crisis of political representation
---
Shop Workers' Union Usdaw

Socialist stands for Usdaw general secretary
---
Home | The Socialist 8 July 2008 | Join the Socialist Party
---