Link to this page: https://www.socialistparty.org.uk/issue/542/6283
From The Socialist newspaper, 16 July 2008
Durham Miners' Gala rejects New Labour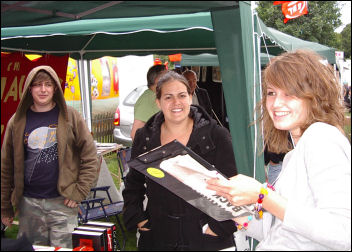 Socialist Party members at the Durham Miners gala, photo by E Brunskill
An estimated 40,000 workers and their families from Durham and beyond converged into the city for the Durham Miners' Gala.
Elaine Brunskill, Northern region Socialist Party
We noticed a change of attitude towards New Labour from previous years, especially from some older workers who until recently were willing to give Brown a chance. Person after person was outraged at Brown's track record.
A typical response when we spoke about low pay, the ten pence tax rate, MPs' expenses and the notorious John Lewis list, was that people lifted up a hand and through gritted teeth muttered: 'Don't get me started, New Labour make me so angry'.
Conversely, when we mentioned that The Socialist (issue 541) had a middle page spread on the need for a new workers' party, the response was very positive. Workers were also interested when we pointed them to the obituary of Terry Fields. When told he had been a workers' MP on a workers' wage, they listened intently, and many contrasted this stance to the current crop of careerist New Labour MPs who have their noses in the trough.
Speaking from the platform, David Hopper, Durham NUM Secretary, lambasted New Labour's lack of democracy, as they prevented two leading Labour party members from standing as candidates. He is reported in the local paper as saying: "Anybody who dares to criticise the Labour Party is condemned for wanting a Tory government back. But who is responsible for creating the conditions for a return to the Tories?"
The Socialist Party had an excellent response at this year's gala. We had a youthful team who worked extremely hard. Many older party members said how good it was to see so many young Socialist Party members continuing to fly our banner. We sold 181 copies of The Socialist, and we are confident these papers will be a source of ideas on how to build a socialist alternative.
Donate to the Socialist Party
Coronavirus crisis - Finance appeal
The coronavirus crisis has laid bare the class character of society in numerous ways. It is making clear to many that it is the working class that keeps society running, not the CEOs of major corporations.
The results of austerity have been graphically demonstrated as public services strain to cope with the crisis.
The government has now ripped up its 'austerity' mantra and turned to policies that not long ago were denounced as socialist. But after the corona crisis, it will try to make the working class pay for it, by trying to claw back what has been given.
The Socialist Party's material is more vital than ever, so we can continue to report from workers who are fighting for better health and safety measures, against layoffs, for adequate staffing levels, etc.
Our 'fighting coronavirus workers' charter', outlines a programme to combat the virus and protect workers' living conditions.
When the health crisis subsides, we must be ready for the stormy events ahead and the need to arm workers' movements with a socialist programme - one which puts the health and needs of humanity before the profits of a few.
Inevitably, during the crisis we have not been able to sell the Socialist and raise funds in the ways we normally would.
We therefore urgently appeal to all our viewers to donate to our special coronavirus appeal.
---
In The Socialist 16 July 2008:

Global finance crisis deepens

Feature: Price inflation - the sickness of capitalism
---
Global Warming

Change the system! not the climate
---
International socialist news and analysis

Sri Lanka general strike

Military threat to Iran stepped up
---
Socialist Party NHS campaign

NHS - birthday greetings and warnings

Ambulances - calls doubled, no extra staff

Polyclinic courts Branson

Ex-Foley-ated! Union bashing NHS boss resigns as staff defeat pay cuts
---
Socialist Party campaigns

Glasgow East by-election Socialist change needed

Durham Miners' Gala rejects New Labour

One Wales rule for the rich...

Post Office Leeds: Haranguing in the rain

Greenwich: Employers' hypocrisy

Bangor: Bus protest
---
Workplace news and analysis

Visteon takeover: Workers' determination defends conditions

Shop stewards conference: Workers and war

Workplace news: In brief
---
Anti-racism

Notts campaign against the racist BNP grows

Anti-racism stall in Wrexham

No to the BNP's attempt to divide Stoke's communities!

'Dear Boris' - we will NOT be silenced!
---
The Socialist Comment

Government attacks single parents
---
Socialist Party review

Live Working or Die Fighting: How the working class went global
---
Home | The Socialist 16 July 2008 | Join the Socialist Party
---