Link to this page: https://www.socialistparty.org.uk/issue/543/6312
From The Socialist newspaper, 23 July 2008
Usdaw election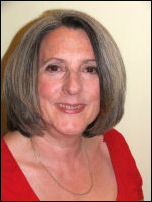 Robbie Segal
Socialist Party member Robbie Segal is standing as a candidate for shopworkers' union Usdaw general secretary.
She is the only candidate standing against the current general secretary John Hannett.
Ballot papers will be distributed from 8 August.
For up to date news and views on the election visit www.robbiesegal.org and www.robbiesegal.blogspot.com.

There is an interview on her website where she expands on her programme.
Why not click here to join the Socialist Party, or click here to donate to the Socialist Party.
---
In The Socialist 23 July 2008:

Stop The Gas Price Rip-Off

Car taxes add to inflation misery
---
Local government strike

Build further action after successful council strike

Reports of the Unsion strike

Pictures of the Unison strike
---
Socialist Party workplace news

Argos workers strike against insulting pay offer

London bus drivers' protest

PCS strikes

Usdaw election
---
Socialist Party news and analysis

Punishing the jobless for being jobless

Bankers' dirty tricks?
---
International socialist news and analysis

Say no to military attack on Iran

Political impasse in the Kurdish region of Iraq

Pakistan: 50,000 textile workers strike
---
Home | The Socialist 23 July 2008 | Join the Socialist Party
---