Link to this page: https://www.socialistparty.org.uk/issue/544/6319
From The Socialist newspaper, 31 July 2008
Gestures to the low paid are not enough:
Fight for a living wage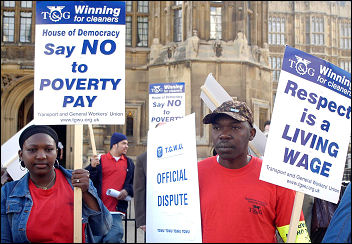 TGWU cleaners demonstrating against low pay, photo Molly Cooper
It's summertime and makin' a livin' ain't easy! Factors such as low pay, high living costs and a government unwilling to defend workers all contribute to this situation.
Sarah Sachs-Eldridge
Because of top-up fees, students have spent the year piling up debt. Young people who have just finished their A-levels are trying to save some money towards the cost of university. Low paid workers are desperately trying to make ends meet.
The most popular choices for holiday jobs are bar and restaurant work and shop work. But the retail industry is based on enormous exploitation. Last year Morrison's made pre-tax profits of £612 million on the basis of paying staff just 4p above the legal minimum wage.
New Labour has allowed restaurants to pay a pittance by including tips when calculating the national minimum wage of £5.52 an hour for workers aged 22 years and older. Waiting staff at the Hard Rock café exposed their miserly bosses who, on this basis, were paying only £2.06 an hour!
Among the main offenders are famous chains including Café Rouge, Caffè Uno and Bella Italia. According to the Independent, at a few places, such as Tuttons restaurant in Covent Garden, staff receive no 'pay' at all: their wages are derived entirely from tips left by diners.
Since the Independent exposed this practice, Downing Street has condemned it. Yet New Labour ministers have only committed to 'urging' restaurants to pay up. At their recent 'Warwick II' policy forum, ministers also promised tougher enforcement of the minimum wage, including higher penalties for firms paying their workers below the legal rate. Workers are owed between £0.15 million and £0.3 million in underpayments. Once caught these Scrooge bosses are only obliged to repay what they owe!
Currently apprentices aged under 19 or in the first 12 months of their apprenticeship do not qualify for the national minimum wage. The policy forum will 'ask' the Low Pay Commission to consider whether apprentices should receive a legal minimum.
They have also pledged to extend the full adult minimum wage rate, which currently kicks in at the age of 22, to 21-year-olds. Any increases and improvements are welcome but this will still leave workers aged under 18 to struggle on £3.40 an hour. And the adult rate itself is too low. On the tenth anniversary of the minimum wage act these measures that New Labour is proposing go nowhere near what is needed. The bosses intend to make workers pay for the credit crunch and it is clear that New Labour have no plans to prevent this.
Currently it is the bosses' union, the CBI which has the most influence on the government. While this is the case the minimum wage will remain just that - a bare minimum that bosses will pay when forced to and won't when they can get away with it.
For all workers to win a living wage we need the trade unions to exert massive pressure on the government. This can only be done on the basis of united struggle and building a new mass workers' party to stand up for workers.
---
>
Usdaw general secretary election
Vote Robbie Segal
Robbie stands for a minimum wage of £8 an hour for all workers
Donate to the Socialist Party
Coronavirus crisis - Finance appeal
The coronavirus crisis has laid bare the class character of society in numerous ways. It is making clear to many that it is the working class that keeps society running, not the CEOs of major corporations.
The results of austerity have been graphically demonstrated as public services strain to cope with the crisis.
The government has now ripped up its 'austerity' mantra and turned to policies that not long ago were denounced as socialist. But after the corona crisis, it will try to make the working class pay for it, by trying to claw back what has been given.
The Socialist Party's material is more vital than ever, so we can continue to report from workers who are fighting for better health and safety measures, against layoffs, for adequate staffing levels, etc.
Our 'fighting coronavirus workers' charter', outlines a programme to combat the virus and protect workers' living conditions.
When the health crisis subsides, we must be ready for the stormy events ahead and the need to arm workers' movements with a socialist programme - one which puts the health and needs of humanity before the profits of a few.
Inevitably, during the crisis we have not been able to sell the Socialist and raise funds in the ways we normally would.
We therefore urgently appeal to all our viewers to donate to our special coronavirus appeal.
---
In The Socialist 31 July 2008:

Voters reject Labour: Build a new workers' party

Glasgow East by-election: New Labour's support evaporates
---
Olympics

The not so 'green' Beijing Olympics
---
Socialist Party campaigns

Gestures to the low paid are not enough: Fight for a living wage

Feature: End the pay gap now

Whine and dine

EDF - taking the rise

Stop the far-right

'A Workers' MP on a Worker's Wage'

Campaigners keep fighting to save local post offices
---
Socialist Party review

The Ragged Trousered Philanthropists
---
Socialist Party workplace news

Passport staff strike

Land registry in third pay walk out

Passport to profits

In brief
---
Home | The Socialist 31 July 2008 | Join the Socialist Party
---