Link to this page: https://www.socialistparty.org.uk/issue/545/6332
From The Socialist newspaper, 13 August 2008
Nationalise the top food and fuel companies
No to food & fuel poverty
Each week the cost of getting to the supermarket, buying the basic groceries for a family and cooking a meal is going up. Shoppers and shop workers talk about soaring prices on the checkout and wonder how we're going to manage and where it will end.
Vicky Perrin, Huddersfield Socialist Party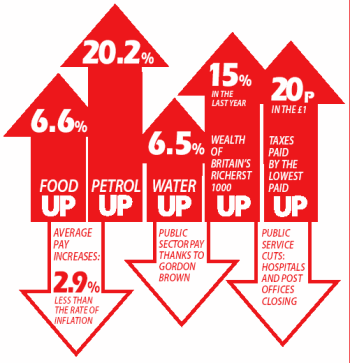 Cost of living - credit: Campaign for a New Workers Party, cwnp.org.uk
New 'budget' lines of poor quality food and price promotions are springing up to try to reassure us into staying loyal to a particular supermarket. Food companies are now reducing the quantities of food in popular lines whilst charging the same price for them as a way of protecting their profits on the sly in the face of rising prices.
If you used to feed three children with a pack of 12 fish fingers you're in trouble because the same pack now contains only ten so you'll have to draw lots for who gets the fourth one on their plate! Even sandwich shops and cafes are adding 'credit crunch specials' to their menus in recognition of the fact that money is getting tighter and we're all feeling the pinch more every day.
To put a tenner's worth of petrol in a car now takes just a few seconds. Bus and train fares are rocketing. The number of households in 'fuel poverty', having to choose this winter either to put the fire on or cook a meal, will be the highest in decades and now the water companies are planning to join the price-hike race.
Meanwhile, big business and government fat cats tell us to stop wasting food, and sing the praises of inventive and frugal war-time cooking. The boss of Centrica (British Gas) said we should wear a second jumper if we feel a little chilly when winter starts to bite and we're facing 60-70% increased fuel price rises.
Not that he will need to worry about winter coming with his salary of over £1 million a year; nor will Gordon Brown have to choose to take something out of his basket to get through the checkout on his weekly budget - thanks for the advice!
One third of the biggest 700 businesses in Britain disgracefully pay no corporation tax at all. The government didn't turn a hair to bail out Northern Rock to the tune of billions when it felt the credit crunch, taking the investment out of public pockets and putting the profit into private ones. This is while low paid public-sector workers have to take strike action just to try and get their pay in line with inflation and keep their heads above water.
Privatised energy companies make us pay to cover price rises and instability in the world economy whilst protecting the obscene amounts paid to directors, top shareholders and others with their noses already firmly wedged in the trough. The Socialist Party calls for the genuine nationalisation of utilities so that surpluses can be re-invested and prices can be put under public regulation.
Enough of the insulting lectures about 'tightening our belts' - it's the bosses' system that's got us into this mess; only replacing it with a system in workers' interests can get us out of it.
Donate to the Socialist Party
Coronavirus crisis - Finance appeal
The coronavirus crisis has laid bare the class character of society in numerous ways. It is making clear to many that it is the working class that keeps society running, not the CEOs of major corporations.
The results of austerity have been graphically demonstrated as public services strain to cope with the crisis.
The government has now ripped up its 'austerity' mantra and turned to policies that not long ago were denounced as socialist. But after the corona crisis, it will try to make the working class pay for it, by trying to claw back what has been given.
The Socialist Party's material is more vital than ever, so we can continue to report from workers who are fighting for better health and safety measures, against layoffs, for adequate staffing levels, etc.
Our 'fighting coronavirus workers' charter', outlines a programme to combat the virus and protect workers' living conditions.
When the health crisis subsides, we must be ready for the stormy events ahead and the need to arm workers' movements with a socialist programme - one which puts the health and needs of humanity before the profits of a few.
Inevitably, during the crisis we have not been able to sell the Socialist and raise funds in the ways we normally would.
We therefore urgently appeal to all our viewers to donate to our special coronavirus appeal.
---
In The Socialist 13 August 2008:

No to food & fuel poverty

Don't miss the Socialist Party summer camp

Protectionism looms as Doha round fails

Fast news
---
The Socialist Diary

The Socialist diary: details of meetings and events
---
Anti-racism

Oppose the BNP 'Festival of Hate'

Protest at BNP's racist policies

Fighting on class policies
---
International socialist news and analysis

Georgia - Russia conflict: Disaster for working people
---
Special feature

CWI Summer School 2008: Capitalism at a crucial turning point in its history
---
Socialist Party workplace news

Save our Post Offices: Sheffield campaign builds strength

Strike threat produces Glasgow pay victory
---
Home | The Socialist 13 August 2008 | Join the Socialist Party
---