Link to this page: https://www.socialistparty.org.uk/articles/6349
Posted on 2 September 2008 at 0:00 GMT
Out Now!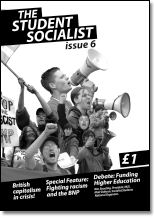 The Student Socialist
The Student Socialist, issue 6, September 08
Articles include:
Debate with NUS president Wes Streeting on the question of university fees, feature on combatting the BNP, british capitalism in crisis, the environment, fighting for womens rights, gun and knife crime, reports of socialist student societies 07-08 and more!
£1, available from socialist students, PO BOX 858, London, E11 1YG, 020 8558 7947, socialiststudents@hotmail.com
or Socialist Books, PO Box 24697, London, E11 1YD
Why not click here to join the Socialist Party, or click here to donate to the Socialist Party.
---