Link to this page: https://www.socialistparty.org.uk/issue/548/6401
From The Socialist newspaper, 17 September 2008
London bus strike: "Showing them our power"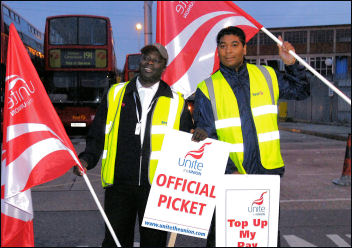 London bus strike, photo Paul Mattsson
The first round of London bus strikes on 29 August was confined to First bus company and mainly affected north London routes. By the time the dust had settled and round two began on 12 September, the strike had spread to Metro bus routes all the way south to Croydon.
Neil Cafferky
Despite the fact that the Metro depot is sandwiched between a sewage treatment plant and a rubbish tip, picketers from Unite branch 1/345 were in an optimistic mood.
Management looked on sullenly as every third or fourth car passing the gates honked their horn in support.
Workers from other companies gathered at the entrance to their workplaces and nodded with approval at the sight of a picket that included at least 30-40 workers at any time.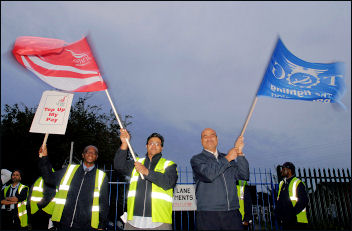 London bus strike, photo Paul Mattsson
The picket was well organised with a barbecue almost blocking out the smell from the rest of the industrial estate. And the depot entrance was decorated with Unite banners and balloons.
Although the immediate issue in the strike was pay, a branch rep pointed out that the working conditions endured by the drivers was a big factor in pushing the branch to vote for industrial action.
Toilet and break facilities are completely inadequate, with the branch rep reporting that three drivers have actually soiled themselves while on duty.
The canteen, such as it is, has seating for ten people despite having 320 drivers.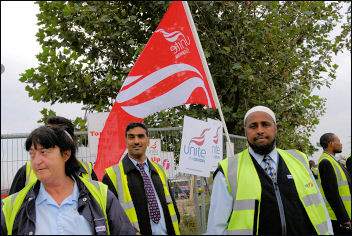 London bus strike, photo Paul Mattsson
The branch rep pointed out that the meanness of Metrobus towards its staff was allowing the company to pocket extra profits and win more contracts from Transport for London. "We would like to see all London buses back under the umbrella of Transport for London", he said.
There was also strong criticism of the Labour Party, with some strikers reacting with disbelief when they read Socialist Party leaflets headlining the fact that Unite gave £1.2 million to the Labour Party last year.
Many on the picket said they looked forward to an all-London strike of bus workers.
Why not click here to join the Socialist Party, or click here to donate to the Socialist Party.
---
In The Socialist 17 September 2008:
---
Credit crunch

It's time to fight back!
---
Socialist Party editorial

Capitalist crisis - Karl Marx was right
---
Anti-racism

No to racism: Yes to decent jobs, homes & services!
---
Socialist Party campaigns

Socialist candidate gains 40% of vote, stuns Usdaw leaders

Conflict in Georgia - independent position needed

Brown's feeble fuel package
---
Labour Party conference protest

Protest at war and occupation

Welcome to the real Manchester

Fighting city needs a fighting party

Panicky MPs turn on Labour
---
Privatisation and closure

No to post office closures

Protesters tackle Metro privatisation
---
Socialist Party feature

Middle East: End imperialist aggression!
---
Socialist Party workplace news

London bus strike: "Showing them our power"

Pickets cheer in West London

Ford workers meet to defend jobs

Journalists win union recognition victory

2008 Trades Union Congress: Pressure from below begins to show

Swansea rail workers fighting for a living wage

fastnews
---
International socialist news and analysis

Interview with Cindy Sheehan: "Some kind of populist uprising needs to happen"

Scotland: Tactical questions for local government pay battle
---
Socialist Party review

'Bob Marley' reviewed by Jason Toynbee
---
Home | The Socialist 17 September 2008 | Join the Socialist Party
---