Link to this page: https://www.socialistparty.org.uk/issue/550/6443
From The Socialist newspaper, 2 October 2008
Bradford & Bingley: We need real nationalisation
THE CAMPAIGN for a New Workers' Party (CNWP) issued the press release below, written by Coventry Socialist Party councillor and the CNWP national chair Dave Nellist.
BRADFORD & Bingley's nationalisation raises one big question. If it's OK to bail out the bankers, why couldn't the government intervene to rescue other companies - for example Longbridge or Peugeot car factories whose owners have thrown thousands out of work?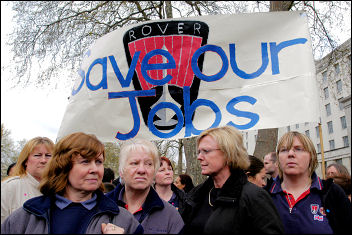 Rover workers demonstrate against closure in 2005, photo Paul Mattsson. But why was the plant not nationalised?
In reality, what has happened is not genuine nationalisation but a form of 'socialism for the rich'. Bad debts and the consequences of unbridled financial greed are being transferred to the state, and the taxpayer, that's you and me, will be passed the bill.
Northern Rock and Bradford & Bingley have not been nationalised to protect the small investors - and clearly not the thousands of jobs that are now being shed - but to shore up the capitalist system and in particular the rich shareholders of the wider banking system.
£50 billion or more can be found to bail out the banks - but when I called for the nationalisation of car production at Longbridge or Ryton, or for state intervention to save other manufacturing or industrial jobs, I was told I was "living in the past".
When pensioners and others on fixed low incomes face rocketing fuel costs and falling disposable incomes, they're expected to make do - yet top banking executives in many of the failed and flawed financial companies in America and here have had millions, even tens of millions, in compensation and salaries.
Noticeably however amongst the three big parties there is only one voice - defence of the system and pass the bill to the rest of us. There is no national authoritative voice calling for genuine socialist nationalisation that would allow the economy to be rationally and democratically planned for the benefit of all.
Working people urgently need an independent political party of their own that's not afraid to use the traditional language of socialism against working peoples' traditional enemy - the 'free market' system.
Why not click here to join the Socialist Party, or click here to donate to the Socialist Party.
---
In The Socialist 2 October 2008:
---
Socialist Party editorial

Market madness!
---
Credit crunch

Bradford & Bingley: We need real nationalisation

The bishop and the 'bank robbers'

Russia: economic crisis looms

What is short-selling and will the ban have any effect?

Short-sellers back Tories

Another nail in New Labour's coffin
---
Socialist Students

Student debt soaring

Lots of new recruits for Socialist Students
---
Global Warming

Climate change calamities: Socialist planning needed

Cuts and privatisation threaten new floods
---
Socialist Party workplace news

Local government pay dispute in Scotland: solid support for strike

Unison goes to arbitration - a strategy or surrender?

Union calls ballot over health pay

Unions must fight to defend Ford jobs

Lincoln - fight council cuts plan

Workplace news in brief
---
Socialist Party campaigns

Jean Charles de Menezes
---
Comment

Conditions in China
---
Socialist Party review

Liberty by Glyn Maxwell at Shakespeare's Globe
---
Home | The Socialist 2 October 2008 | Join the Socialist Party
---