Link to this page: https://www.socialistparty.org.uk/issue/550/6452
From The Socialist newspaper, 2 October 2008
Solid support for Scotland's local government pay strike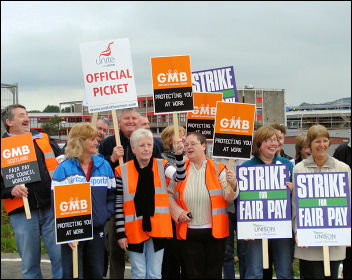 Scotland council workers strike, photo International Socialists
Council workers across Scotland responded in massive numbers to the second national all-out strike day on 24 September. As on 20 August, Scottish local government was effectively shut down as 150,000 members of Unison, GMB and Unite took action against a derisory offer of 2.5% from their employer, CoSLA. Reports from Brian Smith, Jim McFarlane and Philip Stott.
In Glasgow all 160 primary schools and 130 nurseries were closed, bins went uncollected, traffic wardens were out and social work day centres and offices were shut.
There was a noisy and determined demo of 1,000 striking workers in Edinburgh. The media coverage was largely sympathetic and reflects what the majority of the activists and members are picking up from the wider public.
Council workers are becoming more angry as they watch the cost of their shopping basket and household bills increase by the week whilst their employers and the governments tell them that they must be "more realistic".
Our claim of 5% or £1,000 is looking more and more modest by the day and it is the employers who must get real.
The trade unions now intend to pursue the tactic of selective action by small groups during the first three weeks of October.
This will only involve Unison members and will see council call centre workers out in the first week and environmental health workers in the second week. There are no further days of all-out action planned.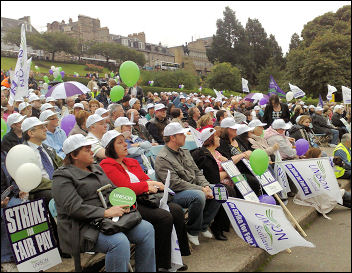 Scotland council workers strike, photo International Socialists
This is a mistake. We are now six months past the settlement date and facing an increasingly hardline employer. Rank and file members and activists in all three trade unions must now do all they can to force the leaderships to escalate the action. Our members are angry and know that they can win this dispute.
The trade unions should immediately call two days of all-out action in the third week of October followed by three days of action early in November. (see resolution right)
In Dundee local council workers had even more pickets out than in August. More workplaces were covered by workers determined to drive home the message that the scandal of low pay was not being tolerated.
Recruitment to the unions has rocketed as local government workers feel that at last a fightback is taking place and they want to be part of it. A number of new stewards have come forward to strengthen the trade union organisation in the workplaces.
The lunchtime march and rally of around 500 people was colourful, noisy and angry at the employer's failure to meet the realistic pay demands.
Jim McFarlane, Chair of Dundee City Unison (and a International Socialists and Solidarity member) exposed the hypocrisy of Labour politicians for claiming to support this struggle but who had presided over cuts and low pay for years while they were in power.
On the other hand, the Scottish National Party had spent the Blair years claiming to support public services and public-sector workers, but now when they have the power to do something about that, are nowhere to be seen. In fact they want further cuts through "efficiency savings".
Jim also raised the need to escalate the action if the strike and selective action, due to begin in October, does not force the employers to come up with an acceptable offer. This was enthusiastically applauded.
The Tayside Secretary of the Fire Brigades Union, Jim Malone (another Solidarity member) brought a message of support and called for all public-sector workers to be fighting together.
Members of the International Socialists in Scotland have drawn up the following resolution and are asking union branches, workplace meetings and shop stewards' committees to support it.
The demand for escalation of the all-out action is already supported by Glasgow Unison, the biggest union branch in Scotland with 12,000 members. This dispute can be won.
Resolution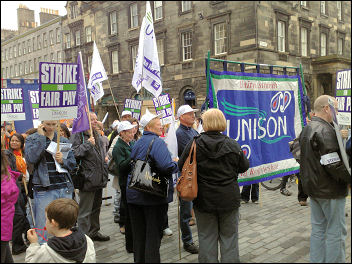 Scotland council workers strike, photo International Socialists
"This meeting recognises the commitment of trade unionists employed in local government to obtaining a decent pay rise. In the face of a 2.5% offer against an inflation rate of anywhere between five and 10% in real terms for our members it is little wonder that there was such magnificent support for the strike on 24 September.
The need for our claim to be met in full in order to safeguard the living standards of all our members but particularly the 50% who earn less than £300 per week is now graphically evident.
We are dismayed by the intransigence of the employers and their lack of an adequate response to our modest pay claim. Now we need to extend the effects of the strategy in order to bring them to the negotiating table with an acceptable offer.
Accordingly we agree to seek support for supplementing the selective action in October with all-out strike action of two days in mid-October and three days in early November so that all members in all unions can be involved in putting pressure on the employers.
We should also tighten up on our life and limb cover exemptions and ensure that it is only being given for those members in residential care caring for, cleaning and feeding the residents.
The employers will only understand our seriousness when they see a planned programme of escalation. The sooner all three unions are committed to such a programme, the sooner this dispute can be settled.
Where possible our actions should be coordinated with all other public-sector workers involved in taking industrial action against the governments' intransigence on public-sector pay and in particular the workers within PCS who are currently being balloted for action in November."
Donate to the Socialist Party
Finance appeal
The coronavirus crisis has laid bare the class character of society in numerous ways. It is making clear to many that it is the working class that keeps society running, not the CEOs of major corporations.
The results of austerity have been graphically demonstrated as public services strain to cope with the crisis.
The government has now ripped up its 'austerity' mantra and turned to policies that not long ago were denounced as socialist. But after the corona crisis, it will try to make the working class pay for it, by trying to claw back what has been given.
The Socialist Party's material is more vital than ever, so we can continue to report from workers who are fighting for better health and safety measures, against layoffs, for adequate staffing levels, etc.
When the health crisis subsides, we must be ready for the stormy events ahead and the need to arm workers' movements with a socialist programme - one which puts the health and needs of humanity before the profits of a few.
Inevitably, during the crisis we have not been able to sell the Socialist and raise funds in the ways we normally would.
We therefore urgently appeal to all our viewers to donate to our Fighting Fund.
---
In The Socialist 2 October 2008:
---
Socialist Party editorial

Market madness!
---
Credit crunch

Bradford & Bingley: We need real nationalisation

The bishop and the 'bank robbers'

Russia: economic crisis looms

What is short-selling and will the ban have any effect?

Short-sellers back Tories

Another nail in New Labour's coffin
---
Socialist Students

Student debt soaring

Lots of new recruits for Socialist Students
---
Global Warming

Climate change calamities: Socialist planning needed

Cuts and privatisation threaten new floods
---
Socialist Party workplace news

Local government pay dispute in Scotland: solid support for strike

Unison goes to arbitration - a strategy or surrender?

Union calls ballot over health pay

Unions must fight to defend Ford jobs

Lincoln - fight council cuts plan

Workplace news in brief
---
Socialist Party campaigns

Jean Charles de Menezes
---
Comment

Conditions in China
---
Socialist Party review

Liberty by Glyn Maxwell at Shakespeare's Globe
---
Home | The Socialist 2 October 2008 | Join the Socialist Party
---