Link to this page: https://www.socialistparty.org.uk/issue/550/6457
From The Socialist newspaper, 2 October 2008
Jean Charles de Menezes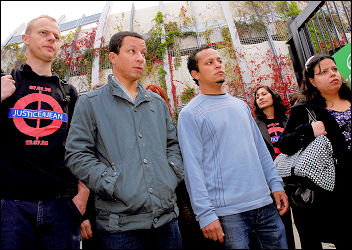 Jean Charles de Menezes relatives and friends outside the inquiry into his shooting, photo Paul Mattsson
ANOTHER INQUIRY is now underway into the killing of Brazilian electrician Jean Charles de Menezes in July 2005 in south London. Jean Charles was killed by members of the Metropolitan Police after supposedly being mistaken for a 'terrorist suspect' shortly after the 7/7 bombings in London.
The same questions still remain after three years.
Why, if the Met thought they were chasing a terrorist, did they not arrest him before they reached Stockwell tube station where Jean Charles was killed. Who decided to carry out what amounted to the hunting down and killing of an innocent man?
More in future issues.
Why not click here to join the Socialist Party, or click here to donate to the Socialist Party.
---
In The Socialist 2 October 2008:
---
Socialist Party editorial

Market madness!
---
Credit crunch

Bradford & Bingley: We need real nationalisation

The bishop and the 'bank robbers'

Russia: economic crisis looms

What is short-selling and will the ban have any effect?

Short-sellers back Tories

Another nail in New Labour's coffin
---
Socialist Students

Student debt soaring

Lots of new recruits for Socialist Students
---
Global Warming

Climate change calamities: Socialist planning needed

Cuts and privatisation threaten new floods
---
Socialist Party workplace news

Local government pay dispute in Scotland: solid support for strike

Unison goes to arbitration - a strategy or surrender?

Union calls ballot over health pay

Unions must fight to defend Ford jobs

Lincoln - fight council cuts plan

Workplace news in brief
---
Socialist Party campaigns

Jean Charles de Menezes
---
Comment

Conditions in China
---
Socialist Party review

Liberty by Glyn Maxwell at Shakespeare's Globe
---
Home | The Socialist 2 October 2008 | Join the Socialist Party
---