Link to this page: https://www.socialistparty.org.uk/issue/551/6484
From The Socialist newspaper, 8 October 2008
No to incinerators, give us a real say!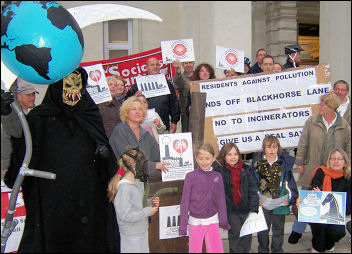 Waltham Forest Residents Against Pollution protest against incinerators, photo Bob Severn
Residents against Pollution made a noisy and eye-catching protest outside the Waltham Forest council cabinet meeting in east London last week.
Paula Mitchell, Waltham Forest Socialist Party
About 30 local residents chanted "Hands off Blackhorse Lane", "No to incinerators", and demanded a real say in the North London Waste Strategy. We had made big signs and placards, a model incinerator, and were accompanied by a Socialist Party member dressed up as the Grim Reaper.
We were joined by residents, family members and workers at Walton House, a residential care home the council is trying to privatise. They brought drums and horns, we brought a megaphone, and together we made a noise the cabinet members couldn't ignore.
At the start of the year we launched our campaign against the North London Waste Authority's plans with a public meeting of 40 angry residents in the Blackhorse Lane area.
Since the results of the first phase of the consultation were published in July, which confirmed our suspicions that new waste facilities could be built on Blackhorse Lane, and potentially a new incinerator, we have organised two planning meetings. Around 20 local residents have given out 10,000 leaflets door-to-door and at the tube station and college.
In a short time and with hardly any money, we have reached around 30,000 people with our material - considerably more than the 20 people the consultants managed to get along to their workshop.
And cages are definitely being rattled! After months of ignoring us or fobbing us off, suddenly councillors, the consultants and the waste authority all want to talk to us. We have invited them to attend our next meeting, where we will demand answers and strenuously make our views clear: Hands off Blackhorse Lane, No to Incinerators, and Give us a Real Say!
Why not click here to join the Socialist Party, or click here to donate to the Socialist Party.
---
In The Socialist 8 October 2008:
---
Credit crunch

Where is the bailout for us?

Editorial: Casino capitalism's crisis continues

Lessons of the 1990s recession in Japan

House building hits new low

Responsibility for the 'age of irresponsibility'

Tories grasp at popularity
---
Socialist Students

Campaign to defeat fees!

Students look for socialist ideas
---
Education

University workers fight pension attacks

NUT strike ballot: Action on pay can win
---
Socialist Party campaigns

A day in the life of a care worker

The sacking of Blair, London's police chief

Socialist meeting blocked by councillor

No to incinerators, give us a real say!

Keep the Metro public!
---
International socialist news and analysis

Mbeki dismissed by ANC as South Africa's president
---
Socialist Party workplace news

"Telling the boss: You can't do that"

Fight against the Unison witch-hunt

Frustration with union leadership

Another victory in Greenwich

Workplace news in brief
---
Home | The Socialist 8 October 2008 | Join the Socialist Party
---