Link to this page: https://www.socialistparty.org.uk/issue/552/6491
From The Socialist newspaper, 15 October 2008
Sack the bankers not the workers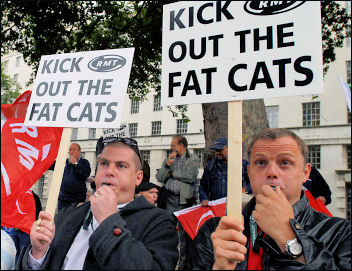 RMT protests against privatisation on the London underground, photo Paul Mattsson
The proposed takeover of HBOS by Lloyds TSB will result in anything from 20,000 to 40,000 jobs being cut. As workers know at Cheltenham & Gloucester (C&G), the mortgage arm of Lloyds, we will not escape the chop.
A Cheltenham and Gloucester bank worker
Where I work at the C&G headquarters in Gloucester, up to 1,000 jobs are in danger as Lloyds looks for cost savings following the takeover. Workers here are fearful for the future.
Working for C&G has always been stressful, even when it was a building society. Then it prided itself on having the lowest costs, which meant insufficient staffing, low pay, legacy IT systems and poor service. Once Lloyds acquired C&G in 1995, it steamrollered further cost savings, which included branch closures, outsourcing head office functions to India, and a draconian performance management system.
The credit crunch has seen mortgage sales collapse. But not all C&G departments are quiet. The repossessions unit is doing brisk business. A year ago, 15 new cases per week were going into repossession; this figure has now climbed to 65 - a 335% increase and the economy is not officially in recession yet!
We are also seeing up to three cases per week, where the borrower is simply handing in their property keys and walking away. But this is no real escape from their problems as their debt will follow them for years as they are ruthlessly pursued for repayment.
Some of these repossessions will be buy-to-let cases, for which there is little sympathy.
Most cases, however, are ordinary working people going through the devastating experience of losing their home and being financially wiped out. And for some the experience will be too much. Heartrending cries can be heard on the C&G phones as defaulting borrowers plead for their homes.
The stress and anxiety caused by being in arrears and then repossession will cause many to suffer mental illness, relationship breakdown and even suicide. Sadly, it is not unknown for a branch manager to enter a home on repossession day and discover a hanging corpse.
The banking sector is now paying for its 'greed is good' strategy of maximising share-holder value over all other considerations. After years of mis-selling, over-charging and reckless lending, their house has unsurprisingly come crashing down.
And now their political servants in the form of New Labour are to bail them out with our taxes, while not yet lifting a finger to help those borrowers facing repossession.
This inequality must be ended once and for all by taking the banks into public ownership under the democratic control of working people. Now that's a repossession we would favour.
The Socialist Party says:
Nationalise all the banks on the basis of democratic public ownership, ie run by representatives of: banking workers and trade unions, the wider working class, as well as the government. Take them completely out of the hands of the fat cats who made the mess! Compensation should be paid only on the basis of proven need.
The nationalised banks should offer cheap loans and mortgages for housing and for the planned development of industry and services. Stop house repossessions!
Open the books of the major companies that dominate the economy; let popular committees of workers, trade unionists and consumer groups see where the profits have gone and what their financial situation really is. No job losses!
End fuel poverty by implementing a windfall tax on the oil and gas companies as a step towards nationalising them.
Raise the minimum wage to £8 an hour. Introduce a sliding scale of wages with automatic increases to cover inflation.
No to privatisation! For investment to improve public services and to defend public sector jobs and pay.
Why not click here to join the Socialist Party, or click here to donate to the Socialist Party.
---
In The Socialist 15 October 2008:

Sack the bankers not the workers

"Give us what the bankers got"

News in brief
---
Socialist Party editorial

Government bailouts: major measures to prop up capitalism
---
Socialist Party Marxist analysis

Recession in Britain: Anger and bitterness towards the financiers

Repossessions grow as banking crisis hits
---
Socialism 2008

Capitalism in crisis: Why you should come to Socialism 2008
---
Socialist Party campaigns

Political protest in Liverpool will not be silenced!

Mandelson - New minister for the rich

Planning Bill: Local views sidelined for big business
---
Socialist Party women

Defend and extend abortion rights
---
Education

Opposition grows to Kirklees schools plans

Bangor: Organising to fight university tuition fees

Nottingham Trent University attempts to de-recognise the lecturers' union

Staff and students unite over pensions
---
International socialist news and analysis

Austria: Far right makes big gains - left vote squeezed

Afghanistan - war without end?
---
Socialist Party review

75th anniversary of Walter Greenwood's Love on the Dole
---
Socialist Party workplace news and analysis

London bus workers strike for a living wage

Local government Scotland: Reject the pay offer!

Unity in Unite unravelling

Unison right-wing insecurity begins to show

Successful outcome for Suzanne Muna

Standing for president of Usdaw
---
Home | The Socialist 15 October 2008 | Join the Socialist Party
---