Link to this page: https://www.socialistparty.org.uk/issue/552/6511
From The Socialist newspaper, 15 October 2008
London bus workers strike for a living wage
Kings Cross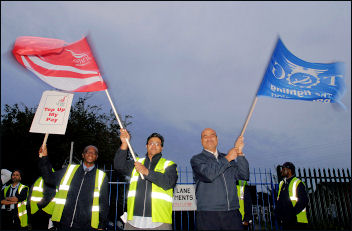 London bus strike, photo Paul Mattsson
On 10 October, striking bus drivers on the Metroline picket near Kings Cross, London were in a very determined mood. Not only are they demanding a living wage but also far better working conditions. Some of the drivers have to work up to 60 hours a week. Also there are very limited toilet facilities.
As one driver pointed out, they have to drive for five and a half hours, including during the rush hour, with no break.
When you travel on a long haul flight you are told to get up and walk around to help your blood circulation. Driving for so long without a break could be damaging their health.
There was a lot of anger with politicians and the established political parties. One driver said that their union Unite needed to form their own party. There was certainly a lot of support from passing drivers.
One bus worker who had come in to work was convinced to join the strike. Only about three of the 200 bus workers crossed the picket line, with no buses moving from this depot. When I raised with them about the bus companies being taken back into public ownership, I got a good response.
Chris Newby
---
>
Dagenham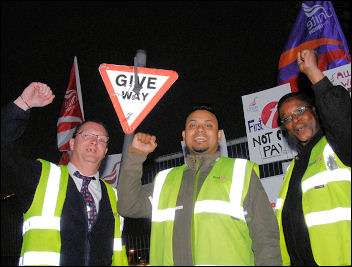 Pickets at the Leyton bus depot in East London, photo Paul Mattsson
Bus workers were also on strike at the First Dagenham bus depot. On the picket line, Unite steward Peter Damiano said there had been a fantastic response, with only two drivers crossing picket lines. "We're solid. The guys have given great support. The claim is to cover for inflation - food, transport, petrol prices have all risen." Management had threatened to call the police, even if the pickets had a brazier, and had allowed the two scabs to take buses out.
"There's a union agreement that when a bus route has less than 50% of buses running, it is stopped because drivers are in increased danger of being subjected to abuse from angry passengers, but management are ignoring this agreement," Peter said.
The company increased their pay offer from 3.5% to 4%, but dropped it again because the union went on strike.
Peter said: "The union is prepared to talk, but not until the management raise the offer back to 4% again."
On 22 October, workers at more London bus companies will strike, including Arriva North, South and East, Thames buses and Metro.
Pete Mason
Why not click here to join the Socialist Party, or click here to donate to the Socialist Party.
---
In The Socialist 15 October 2008:

Sack the bankers not the workers

"Give us what the bankers got"

News in brief
---
Socialist Party editorial

Government bailouts: major measures to prop up capitalism
---
Socialist Party Marxist analysis

Recession in Britain: Anger and bitterness towards the financiers

Repossessions grow as banking crisis hits
---
Socialism 2008

Capitalism in crisis: Why you should come to Socialism 2008
---
Socialist Party campaigns

Political protest in Liverpool will not be silenced!

Mandelson - New minister for the rich

Planning Bill: Local views sidelined for big business
---
Socialist Party women

Defend and extend abortion rights
---
Education

Opposition grows to Kirklees schools plans

Bangor: Organising to fight university tuition fees

Nottingham Trent University attempts to de-recognise the lecturers' union

Staff and students unite over pensions
---
International socialist news and analysis

Austria: Far right makes big gains - left vote squeezed

Afghanistan - war without end?
---
Socialist Party review

75th anniversary of Walter Greenwood's Love on the Dole
---
Socialist Party workplace news and analysis

London bus workers strike for a living wage

Local government Scotland: Reject the pay offer!

Unity in Unite unravelling

Unison right-wing insecurity begins to show

Successful outcome for Suzanne Muna

Standing for president of Usdaw
---
Home | The Socialist 15 October 2008 | Join the Socialist Party
---