Link to this page: https://www.socialistparty.org.uk/issue/553/6516
From The Socialist newspaper, 21 October 2008
Billions to save banks
'Why not save our jobs?'
Ford transit workers walk out
Hundreds of Southampton Ford workers took unofficial action to defend jobs on 20 October, bringing production at the Transit plant to a standstill. This reflects the anger and determination of workers here to fight for their future.
Nick Chaffey, Southampton Socialist Party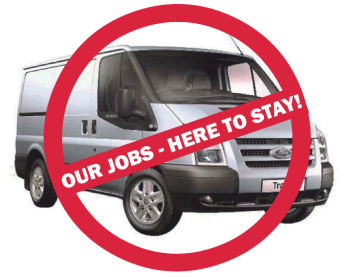 Fords: Our jobs - here to stay
The walkout was in response to the breakdown of national pay talks last week. These talks failed to make any commitment to the future of the Southampton plant and production of the new Transit in 2011.
Ford have made massive profits from Transit production in Southampton, but they want to make even more by exploiting low-paid Turkish workers by moving production to Turkey.
It is vital that this 'race to the bottom' is stopped and reversed. A victory for Ford workers in Southampton would help to protect the jobs, pay and conditions of Ford workers internationally, as it would show that the Ford bosses' plans can be resisted.
Ford want to use the current economic crisis to justify their plans, but these plans were made months ago and are part of a strategic goal to shift production to areas of cheap labour to maximise their profits.
Workers in Southampton have been incensed at the company's failure to stand by agreements to continue Transit production. As one trade union steward commented: "Our members want to know what's going on. We want to end the uncertainty."
Reaction to the walkout was very positive: "This is a good result, everyone is very pleased with the support for today's action. We want the investment here. Reinstate the 120 lads thrown out last month and provide more employment for the city in the future."
This campaign needs to unite all car workers and component manufacturing plants.
One Ford worker told The Socialist: "In today's tight world [of staffing levels], one man can be problematic if they don't turn up. There were big numbers from the body shop, group leaders and other key workers in amongst the walkout. Depending on how it's handled by those inside, not much would move until the late shift.
"This could now be the start of a long campaign. Senior Ford management have already said they are not prepared to talk to our unions until early next year!
"This is just the beginning. We have an Early Day motion in Parliament, with the support of 23 MPs and a successful e-petition up and running."
With the involvement of Ford workers, a bulletin in support of the walkout was produced by the National Shop Stewards Network and distributed at the gate. Its demands included the fight for the new Transit, a decent pay rise, no concessions on terms and conditions and a call for the unions to organise a national demonstration in Southampton.
Over recent weeks the Save The Transit campaign has helped to unearth the scandalous pay and bonuses top Ford bosses have been getting. They could find the money to retool Southampton from their own bloated pockets! Locally hundreds of workers have signed petitions and shown their support.
The threat facing this plant is a threat to all Ford workers in the UK. It will be faced by many other workers too, as the winds of an economic recession are felt. It is essential that workers and the trade unions organise maximum resistance to all attacks.
The walkout in Southampton is a sign of a willingness to fight back. There is no doubt that a mass campaign, including industrial action if necessary, could force Ford to invest. Yet if Ford fail to do so, the clear demand should be made to the government to nationalise Ford UK. As the NSSN leaflet said: "If they can find £80 billion to save the banks with our taxes, why not save our jobs?"
Why not click here to join the Socialist Party, or click here to donate to the Socialist Party.
---
In The Socialist 21 October 2008:
---
Ford workers strike

'Why not save our jobs?'

Socialist measures to fight capitalist crisis
---
Socialism 2008

Rally For Socialism 2008

Socialism 2008 details pdf

Socialism 2008 - book here

Socialism 2008 website
---
Socialist Party editorial

Keynesianism now trumpeted
---
Socialist Party campaigns

Liverpool: Mass protest wins back the right to campaign!

Demonstrators stop fascist march

42-day detention dropped - for now
---
Socialist Party workplace news

PCS members vote to strike

Fight for jobs at JCB

Striking against academies

Protest at disciplinary action against teachers

Fast News
---
Socialist Students

Bangor students vote to fight fees

Fighting for youth in Lewisham

Campaign to Defeat Fees day of action

Kirklees: The battle to save our schools heats up
---
Comment

NHS props up the private profiteers

We can't afford private rail. Nationalise the railways now!
---
International socialist news and analysis

Iceland: A victim of the casino economy

Aer Lingus threatens to axe 1,500 posts
---
Socialist Party review

Persepolis, directed by Marjane Satrapi and Vincent Paronnaud

Black Power Salute (BBC 4)
---
Home | The Socialist 21 October 2008 | Join the Socialist Party
---