Link to this page: https://www.socialistparty.org.uk/issue/553/6531
From The Socialist newspaper, 22 October 2008
Bangor students vote to fight fees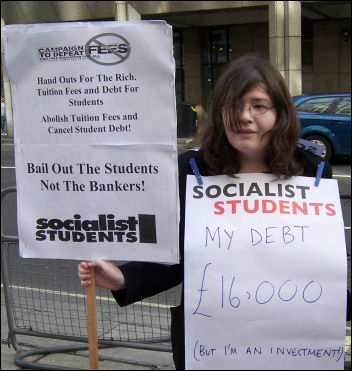 Bail out the students - not the bankers! - Campaign to Defeat Fees protest, photo Bob Severn
The Campaign to Defeat Fees (CDF) won a victory when students at Bangor University in Wales voted to support the campaign's aims in a student union referendum. This was part of the CDF national day of action on 16 October which saw students protest and campaign across England and Wales.
Iain Dalton and Matt Dobson
The result sent shockwaves through the National Union of Students (NUS) leadership. Our 'yes' campaign received 271 votes, outstripping the NUS leadership-backed 'no' campaign's 104 votes.
Through stalls, canvassing halls, postering and putting our case at student union meetings, we spoke to thousands of students. We convinced students that the most effective way of standing up for students is to build a campaign based on mass action at a local and national level.
A key demand must be the scrapping of fees and debt and the introduction of living grants and free education. CDF posters went up on campus and across town in chip shops, bars and takeaways. As a measure of our support one mature student remarked: "You guys are the real NUS - out in the rain politicising students"!
Unfortunately Socialist Students and others had to build this campaign in the teeth of opposition from the NUS leadership. NUS president Wes Streeting and NUS Wales president Ben Gray spoke at meetings against the CDF. They attempted to argue that the government could not afford to scrap fees, especially when the economy is in recession.
But these arguments didn't wash with students. The multi-billion pound bailout for the banks has shown that the money could be found to fund free education.
Instead of listening to Bangor students, it appears the NUS leadership will try to downplay this result. When questioned about the referendum by representatives of Sussex students union, Wes Streeting had the cheek to imply that this result does not reflect the will of students as the turnout was "disappointingly low". It seems that low turnouts are only 'disappointing' when they go against NUS leaders' wishes.
Spread the action!
In fact the turnout was higher than the average for SU elections in Bangor and many other student unions. More ordinary students voted in this referendum than at the extraordinary national conference in December 2007, called by the NUS leadership to push through attacks on union democracy, where the majority who attended were full-time NUS officials.
But the NUS leadership will not be able to ignore us! We believe that if students had the opportunity to hear our case for mass action against fees, the scale of this majority would be repeated throughout England and Wales.
Northumbria Socialist Students and CDF activists are collecting signatures and campaigning for a referendum next term. Activists in many universities are pushing their student unions, through action and campaigning as well as motions and referendums, to fight for free education.
We have to make sure that, now this policy has been passed at Bangor, it will be acted upon. Socialist Students got a motion passed forcing the student union to call a demonstration on 5 November, as part of the NUS day of action on student debt.
But NUS Wales is not organising any events on this day. Given that the Welsh Assembly is discussing cutting back on the financial assistance that is available to all Welsh students studying in Wales, this day of action is of increased importance.
Students need a mass campaign to fight effectively against fees, cuts and privatisation and for free education. That's what the Campaign to Defeat Fees and Socialist Students is fighting for.
If you agree, join the fee fighters!
Why not click here to join the Socialist Party, or click here to donate to the Socialist Party.
---
In The Socialist 22 October 2008:
---
Ford workers strike

'Why not save our jobs?'

Socialist measures to fight capitalist crisis
---
Socialism 2008

Rally For Socialism 2008

Socialism 2008 details pdf

Socialism 2008 - book here

Socialism 2008 website
---
Socialist Party editorial

Keynesianism now trumpeted
---
Socialist Party campaigns

Liverpool: Mass protest wins back the right to campaign!

Demonstrators stop fascist march

42-day detention dropped - for now
---
Socialist Party workplace news

PCS members vote to strike

Fight for jobs at JCB

Striking against academies

Protest at disciplinary action against teachers

Fast News
---
Socialist Students

Bangor students vote to fight fees

Fighting for youth in Lewisham

Campaign to Defeat Fees day of action

Kirklees: The battle to save our schools heats up
---
Comment

NHS props up the private profiteers

We can't afford private rail. Nationalise the railways now!
---
International socialist news and analysis

Iceland: A victim of the casino economy

Aer Lingus threatens to axe 1,500 posts
---
Socialist Party review

Persepolis, directed by Marjane Satrapi and Vincent Paronnaud

Black Power Salute (BBC 4)
---
Home | The Socialist 22 October 2008 | Join the Socialist Party
---