Link to this page: https://www.socialistparty.org.uk/articles/6720
Posted on 16 December 2008 at 0:00 GMT
Bush humiliated by shoe attack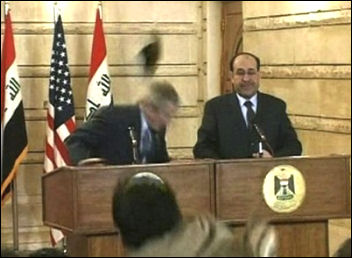 US President George W Bush humiliated by shoe attack
In a symbolic epitaph to Bush's rule, journalist Muntadhar al-Zeidi became a hero across the Arab world for hurling his shoes at US president George W Bush. Film of the incident, considered a serious insult, made news across the world, instantly hit youtube, while satirical videos hit the internet and cartoons appeared in the newspapers, such as the UK Guardian.
Yelling, "this is a farewell kiss, you dog", al-Zeidi gave a glimpse of the anger of the great majority of the world, particularly in the Middle East, against the Bush regime.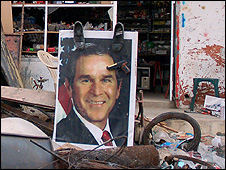 Shoes are commonly pressed against pictures of US President George W Bush in the Middle East, considered a serious insult
Commentators on Sky News compared the incident with the Iraqis who hit the fallen statue of Saddam Hussein with their shoes in 2003. The BBC points out that Condoleezza Rice has been given the particularly insulting first name Kundara, meaning shoe.
Mass rallies in support of Mr Zaidi have also been held across Iraq, calling for his release.
The Iranian PressTV suggests that al-Zeidi, who appears to have been seriously beaten up while in custody, will be richly rewarded: "In Saudi Arabia, a man has offered $10 million to buy just one of the two world famous black dress shoes in an obvious attempt to reward al-Zaidi."
Anger was also expressed in the USA. Social networking website gather.com published an open letter to Bush, counting the combat boots of the 4,029 American soldiers who have died in Iraq and Afghanistan and the 30,852 pairs of combat boots for soldiers injured there. "If we bought shoes that cost $50 a pair, we could buy 12,239,700,000 pair to throw for all the money you have wasted on Iraq."
Why not click here to join the Socialist Party, or click here to donate to the Socialist Party.
---