Link to this page: https://www.socialistparty.org.uk/issue/562/6758
From The Socialist newspaper, 14 January 2009
Fight for your future
Young people must get organised
Join the protests
April 2-4
G20 in London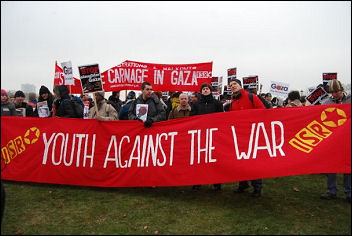 ISR on the demonstration against war on Gaza, London, 10 Jan 2009, photo Sarah Mayo
From 'generation iPod' to generation unemployed in a matter of months - the government and media's portrayal of young people has changed dramatically as the credit crunch has unfolded. It is now predicted that 1.25 million 18-24 year-olds will be unemployed by the end of this year.
Ben Robinson, ISR national organiser
Young people are among the hardest hit by this economic crisis. A recent report said that youth unemployment is more than twice that of the population as a whole.
For Gordon Brown and Co a solution to youth unemployment is easy - McDonalds or a below-minimum wage internship. The latter is the latest proposal for graduates who face unemployment and debt. It will mean staying on a student loan income, while working a full-time job, with no mention of a permanent contract at the end.
This National Internship Scheme, proposed by the universities minister John Denham, will also possibly involve giving companies public money to run these schemes - and for what?
A spokesperson for Microsoft, reportedly one of the big names backing the scheme, said: "We have had 200 paid interns a year for a number of years and we very much anticipate doing the same this year. In some ways it's business as usual"!
So this would be free money to big business while young people are used as slave labour to keep unemployment figures down.
The graduate number this year is expected to be up to 400,000. The National Internship Scheme provides more for scheming bosses wanting to bump up their profits and cut their wage bills than it does for unemployed youth.
The Youth Fight for Jobs campaign fights for a programme of real, decent job creation for young people. See our demands on page 5.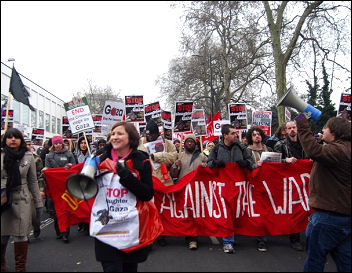 Demonstration against war on Gaza, London, 10 Jan 2009, photo Sarah Mayo
Join ISR to demand a decent future for young people - not slave labour, when Brown and the world leaders meet at the G20 in London on 2 April.
See the website www.youthfightforjobs.com to support the campaign and to get in touch.
Why not click here to join the Socialist Party, or click here to donate to the Socialist Party.
---
In The Socialist 14 January 2009:
---
War and occupation

Stop the Israeli state terror

100,000+ on Gaza protests
---
Socialist Party editorial

British economy heads deeper into crisis
---
Vote for Robbie Segal

Stop job cuts
---
Socialist Party youth and students

Fight for your future

Fight for free education

Building ISR and Socialist Students in 2009

Fight for your future: what ISR campaigns for
---
Socialist Party campaigns

The 2012 Olympics legacy

Heathrow expansion protest

Defend threatened Saudi Arabian trade unionist

Wirral: Marching to stop the cuts

Fast News
---
Socialist Party feature

The NHS today - can it meet everyone's health needs?
---
Socialist Party workplace news

Conference: 'The crisis in working class political representation'

GlaxoSmithKline: The fightback starts here

Tube cleaners protest against victimisation

Job cuts announced at Nissan
---
International socialist news and analysis

Jobs meltdown hits Ireland

Debate and meeting in Dublin

Sri Lanka -: Vicious attacks on media and killing of newspaper editor

Bangladesh: Protesters denounce global mining corporation
---
Socialist Party review

Che
---
Socialist Party feature

Why Manchester rejected the congestion charge
---
Home | The Socialist 14 January 2009 | Join the Socialist Party
---