Link to this page: https://www.socialistparty.org.uk/issue/563/6784
From The Socialist newspaper, 21 January 2009
Hands off Royal Mail
No privatisation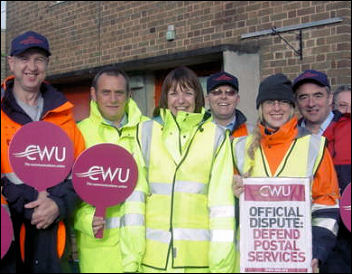 Postal workers on strike, photo Socialist Party
Postal workers across the country reacted with dismay and anger when the Hooper review of Royal Mail was published in December 2008. It is nothing more than a declaration of war against postal workers and our union, the Communication Workers Union (CWU).
Gary Clark, Sub Area rep Scotland No.2 branch CWU
One of the main recommendations is the introduction of private finance and management to "manage change" or, in real terms, privatise. At least 49% will be sold off. As the union says, this could lead to around 50,000 jobs losses and half the mail centres could face closure.
This is at time when we have seen public ownership back on the agenda, with major banks nationalised. But the New Labour government's view is that only private finance can run this vital service. There has been no turnaround by New Labour. The nationalisation of parts of the finance sector is only an emergency measure and not a desired change of policy.
Some Labour MPs are disgusted by cabinet member Peter Mandelson's complete disregard of Labour Party policy, which is committed to a publicly owned postal service. Over 90 have signed an early-day motion committing the government to stand by their manifesto.
But these attacks will not be defeated by the back-benchers. It will take a movement of postal workers, along with a major public campaign. The CWU should now be calling demonstrations across the country, explaining the effect on the public service and at the same time preparing the ground for a national dispute against privatisation.
We have also seen great play being made of our pensions being underwritten by the government. This is only the money stolen by previous governments. What it does not highlight is a complete change in the scheme from a final salary one to a career average one and an increase in the retirement age from 60 to 65. We will have to work five extra years for a worse pension.
Hidden away in the report is a statement that postal workers are 20% overpaid compared to market pay levels, echoing what Royal Mail bosses Leighton and Crozier (wages over £1 million a year) were saying during the national dispute.
But this is something the management have jumped on, openly stating there will be no pay rise this year and this after only a 1.5% increase last year. This is an attack on the living standards of postal workers whose basic pay is low. This must be challenged and fought.
For a pay rise above inflation.
No job losses.
For a 35-hour week without loss of pay.
The CWU union should disaffiliate from the Labour Party and campaign for a new workers' party.
Donate to the Socialist Party
Coronavirus crisis - Finance appeal
The coronavirus crisis has laid bare the class character of society in numerous ways. It is making clear to many that it is the working class that keeps society running, not the CEOs of major corporations.
The results of austerity have been graphically demonstrated as public services strain to cope with the crisis.
The government has now ripped up its 'austerity' mantra and turned to policies that not long ago were denounced as socialist. But after the corona crisis, it will try to make the working class pay for it, by trying to claw back what has been given.
The Socialist Party's material is more vital than ever, so we can continue to report from workers who are fighting for better health and safety measures, against layoffs, for adequate staffing levels, etc.
Our 'fighting coronavirus workers' charter', outlines a programme to combat the virus and protect workers' living conditions.
When the health crisis subsides, we must be ready for the stormy events ahead and the need to arm workers' movements with a socialist programme - one which puts the health and needs of humanity before the profits of a few.
Inevitably, during the crisis we have not been able to sell the Socialist and raise funds in the ways we normally would.
We therefore urgently appeal to all our viewers to donate to our special coronavirus appeal.
---
In The Socialist 21 January 2009:

No more bailouts for bosses!

Fast news: My Lords, Ladies and cash dispenser
---
War and occupation

Gaza war paves way for further conflict

Protesting against Gaza attacks

Egypt: Gaza conflict fuels anti-Mubarak opposition

Readers' comment: media reporting on Gaza
---
Socialist Party campaigns

Hands off Royal Mail

Wirral anti-cuts campaign

Save jobs - nationalise JCB

Fighting the cuts in Greenwich

Shop workers need a fighting trade union leadership

Campaigning in Exeter

Hoover workers march in protest at job losses

Amicus election

Glasgow Unison
---
Socialist Party feature

Obama takes power: What change will the Democrats bring?
---
International socialist news and analysis

Refugees and repression in war ravaged Sri Lanka

Exiled Zimbabweans demand Brown acts

Capitalism kills, concludes study of privatisation era

Lawyer assassinated
---
Environment and socialism

Opposing the expansion of Heathrow

Waltham Forest anti-incinerator campaign: Residents get results

Campaigners fight attacks on education and the environment
---
Socialist Students

Students fight academy status
---
Socialist Party review

What's going on? The meanderings of a comic mind in confusion, by Mark Steel
---
Home | The Socialist 21 January 2009 | Join the Socialist Party
---