Link to this page: https://www.socialistparty.org.uk/issue/563/6797
From The Socialist newspaper, 21 January 2009
Waltham Forest anti-incinerator campaign: Residents get results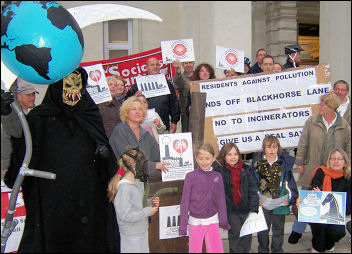 Waltham Forest Residents Against Pollution protest against incinerators, photo Bob Severn
Walthamstow's Residents Against Pollution campaign group had something to celebrate at the end of 2008.
Paula Mitchell
The year started with a threat to the health and safety of local residents when a consultation was launched on the North London waste plan, looking at new sites for waste disposal across North London. There was a risk that at least one of the new facilities could be an incinerator.
Around two-thirds of existing waste facilities in North London are in the working-class area along the Lea Valley, mainly in Enfield and Waltham Forest and half the new proposed sites were in Waltham Forest.
Local residents and Socialist Party members launched a campaign against these plans with a public meeting attended by 40 angry residents in the Blackhorse Lane area. The consultants got only 20 people from the whole borough along to their workshop! We demanded a real say and opposed incinerators on health grounds.
Published in the summer, the first phase of the consultation confirmed our suspicions that an incinerator was being considered. In response, around 20 local residents delivered around 30,000 leaflets door-to-door and at the tube station and college advertising a protest at the town hall.
30 people came to our lively protest, reported in The Socialist in October. A small group lobbied another council meeting two weeks later. The local paper, the Waltham Forest Guardian, reported on our campaign three times.
Suddenly councillors, consultants and the waste authority all wanted to talk to us. We invited them to attend our next meeting, where around 40 local people made our opposition clear.
Message received
As a result our message seems to be getting through. Though we only have verbal hints at this stage, it looks like Blackhorse Lane is now unlikely to be chosen as a new waste site. We are trying to get something in writing, and we won't know for sure till the 'preferred options' stage of the consultation process is reached in May. But this is great progress!
The North London Waste Authority has now voted on its plans for the type of technology they want to use over the next few years. Their document is entitled "A future without incineration"!
Once again there are big 'health warnings' attached to this - the plans still have to be approved by the government, and they are dependent on private finance, which in the current disastrous economic climate is far from assured. Many in the RAP campaign agree with the Socialist Party that waste disposal should not be a privatised service but should be brought back in-house.
Nonetheless, a written plan to avoid incineration across seven North London boroughs is a huge achievement. This is in a context where both the European Union and the government are pushing for a big increase in incineration as a solution to the problem of landfill sites.
But our campaign argued that incineration is no solution - it is dangerous, polluting, and there are much safer and 'greener' technologies which a plan to reduce, re-use and recycle waste should utilise. We have added a local, organised and active voice to the national propaganda from campaigns such as Friends of the Earth, and it would seem we have had an effect.
We cannot be complacent. Under this profit system no gains are guaranteed, and especially not in a time of economic crisis. RAP campaigners are continuing to keep up the pressure on local councillors, and are ready to campaign again in May. But we ended 2008 with something to celebrate: campaigning works!
Donate to the Socialist Party
Coronavirus crisis - Finance appeal
The coronavirus crisis has laid bare the class character of society in numerous ways. It is making clear to many that it is the working class that keeps society running, not the CEOs of major corporations.
The results of austerity have been graphically demonstrated as public services strain to cope with the crisis.
The government has now ripped up its 'austerity' mantra and turned to policies that not long ago were denounced as socialist. But after the corona crisis, it will try to make the working class pay for it, by trying to claw back what has been given.
The Socialist Party's material is more vital than ever, so we can continue to report from workers who are fighting for better health and safety measures, against layoffs, for adequate staffing levels, etc.
Our 'fighting coronavirus workers' charter', outlines a programme to combat the virus and protect workers' living conditions.
When the health crisis subsides, we must be ready for the stormy events ahead and the need to arm workers' movements with a socialist programme - one which puts the health and needs of humanity before the profits of a few.
Inevitably, during the crisis we have not been able to sell the Socialist and raise funds in the ways we normally would.
We therefore urgently appeal to all our viewers to donate to our special coronavirus appeal.
---
In The Socialist 21 January 2009:

No more bailouts for bosses!

Fast news: My Lords, Ladies and cash dispenser
---
War and occupation

Gaza war paves way for further conflict

Protesting against Gaza attacks

Egypt: Gaza conflict fuels anti-Mubarak opposition

Readers' comment: media reporting on Gaza
---
Socialist Party campaigns

Hands off Royal Mail

Wirral anti-cuts campaign

Save jobs - nationalise JCB

Fighting the cuts in Greenwich

Shop workers need a fighting trade union leadership

Campaigning in Exeter

Hoover workers march in protest at job losses

Amicus election

Glasgow Unison
---
Socialist Party feature

Obama takes power: What change will the Democrats bring?
---
International socialist news and analysis

Refugees and repression in war ravaged Sri Lanka

Exiled Zimbabweans demand Brown acts

Capitalism kills, concludes study of privatisation era

Lawyer assassinated
---
Environment and socialism

Opposing the expansion of Heathrow

Waltham Forest anti-incinerator campaign: Residents get results

Campaigners fight attacks on education and the environment
---
Socialist Students

Students fight academy status
---
Socialist Party review

What's going on? The meanderings of a comic mind in confusion, by Mark Steel
---
Home | The Socialist 21 January 2009 | Join the Socialist Party
---