Link to this page: https://www.socialistparty.org.uk/issue/564/6816
From The Socialist newspaper, 28 January 2009
Coventry protest over Gaza onslaught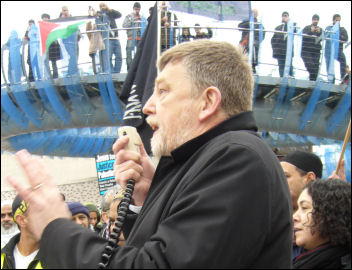 Dave Nellist addresses a No more ghettos: not Warsaw, not Gaza vigil
FOLLOWING THE weekly protests in Coventry called by the Socialist Party against the Israeli state onslaught on Palestinians in Gaza, a dignified vigil and a 300-strong protest rally were held to coincide with Holocaust Memorial Day last Sunday.
Socialist Party councillor Dave Nellist read out a statement that recognised the murderous hell that Jews had been put through in Europe by the Nazis but also condemned the bombardment of Palestinians in the Gaza strip by the Israeli state.
A delegation of eight, including Jews For Justice in Palestine, local Mosques and Minal Timraz - a restaurant owner in St Michael's ward (which Socialist Party councillors Dave Nellist and Rob Windsor represent) who has lost 15 members of her family in the bombing of Gaza - proceeded to the Holocaust memorial event with a banner entitled: "No more ghettos, not Warsaw - not Gaza".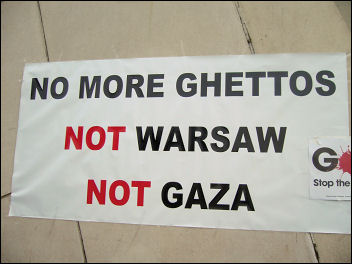 No more ghettos: not Warsaw, not Gaza, photo by Coventry Socialist Party
Back at the rally, recognition of the role of the Socialist Party in opposing the attacks on Gaza, its call for mass struggle by working people against capitalism and for a socialist solution to the crisis in the Middle East, was enthusiastically applauded several times.
Later, Dave criticised the BBC's refusal to screen the Disasters Emergencies Committee appeal for funds for humanitarian relief in Gaza. "If it was up to me, the government of Israel ought to be made to pay reparations to the thousands of Palestinians whose lives have been ruined. But whether or not that is eventually achieved the immediate need is for shelter, sustenance and medical supplies, and the rebuilding of schools and homes.
"The BBC should reverse its disgraceful decision and not play politics with people's lives."
Why not click here to join the Socialist Party, or click here to donate to the Socialist Party.
---
In The Socialist 28 January 2009:

JOIN THE MARCH FOR JOBS

Defend jobs and services

Era of illusions in capitalism ending

The crisis in manufacturing: Fighting for jobs and living standards

No pay discrimination against young people

Ferengi dealers
---
Slaughter in Gaza

Coventry protest over Gaza onslaught

Israel: Thousands march in Jaffa against Gaza massacre

Students' angry sit-ins
---
Anti-racism

Stop the racist BNP

Stop the deportation of Yahya Al-Faifi
---
Socialist Party campaigns

Socialist councillor opposes Tory plans for education privatisation

Labour's abandoning of the working class

Croydon: Striking against academies

Scotland: Step up opposition to cuts

Fast News
---
Socialist Party workplace news

Fighting council cuts

Say 'no' to the Metro privateers

Amicus Unity Gazette left with egg on its face

Unison right wing exposed

Victory for left in Glasgow Unison

Solid support for Glasgow strike

Building a fighting Unison leadership
---
Education

Build a mass movement for free education

Save our school!
---
Marxist analysis: history

Germany 1919 The Spartacist uprising
---
International socialist news and analysis

Russia: Bosses sack auto-factory union leader

Courageous socialist activist, campaigning journalist and human rights activist
---
Socialist Party news

Obituary - Barry Malone
---
Socialist Party reviews

A People's History of Sports in the United States

The Reader
---
Home | The Socialist 28 January 2009 | Join the Socialist Party
---