Link to this page: https://www.socialistparty.org.uk/issue/564/6833
From The Socialist newspaper, 28 January 2009
Socialist councillor opposes Tory plans for education privatisation
Last week's Kirklees council meeting brought in a new Liberal/Labour coalition administration after a vote of 'no confidence' in the ruling minority Tory cabinet took place.
Jackie Grunsell, Save Huddersfield NHS councillor
The vote was the culmination of months of debate over plans to reconfigure schools in North Kirklees, under the Building Schools for the Future (BSF) programme. This promised large sums of money to improve schools but the Tories' plans also involved school closures and mergers and an academy school in the area.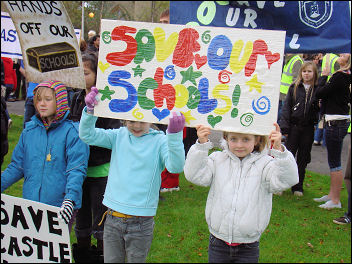 Save our school: one of the many protests against the Tory plans, photo by Yorkshire SP
Particularly controversial was the plan to build a new high school in the ward of the Tory leader of the council, where there had previously been none. This would have created a new school predominantly for white children in a relatively wealthy area, from where many children would previously have gone to a school in nearby Batley, which has a majority of asian pupils from more deprived parts of Kirklees.
The plans have set one community against another in a fight for resources, in a part of the borough already struggling to manage tensions and divisions between communities. Since September, council meetings have been packed with up to 200 members of the public coming to lobby and hear the debate. Meetings of outraged parents, staff and pupils have taken place in just about every affected part of the borough.
The Tories, in a desperate attempt to absolve themselves of responsibility, even called for a referendum on the issue, but those wanting to participate would have to register to vote! There was never genuine consultation with the public about what they wanted.
In order to get the vote of 'no confidence', Labour and Liberals needed a two-thirds majority vote.
With all the Labour, Liberal and Green councillors present they still needed one more vote to remove the Tory administration and were forced to ask for my support (I am a Socialist Party member who was elected in 2006 to the council for Save Huddersfield NHS).
As a result of discussion before the vote it appears that the new Lib/Lab proposals will no longer contain plans for an academy, although final plans are yet to be drawn up.
They have also given a commitment to discuss plans with trade unions representing staff in the affected school. On the basis of these expected changes, I voted to bring down the Tory administration.
Socialist Party members however are under no illusion that the new administration will be significantly different to the last; in a period of economic crisis they will come under pressure to make cuts in services and jobs.
But this episode shows how even just one socialist councillor can help the campaign for the retention of comprehensive and community education in Kirklees, and strike a blow against privatisation and closures.
Donate to the Socialist Party
Finance appeal
The coronavirus crisis has laid bare the class character of society in numerous ways. It is making clear to many that it is the working class that keeps society running, not the CEOs of major corporations.
The results of austerity have been graphically demonstrated as public services strain to cope with the crisis.
The government has now ripped up its 'austerity' mantra and turned to policies that not long ago were denounced as socialist. But after the corona crisis, it will try to make the working class pay for it, by trying to claw back what has been given.
The Socialist Party's material is more vital than ever, so we can continue to report from workers who are fighting for better health and safety measures, against layoffs, for adequate staffing levels, etc.
When the health crisis subsides, we must be ready for the stormy events ahead and the need to arm workers' movements with a socialist programme - one which puts the health and needs of humanity before the profits of a few.
Inevitably, during the crisis we have not been able to sell the Socialist and raise funds in the ways we normally would.
We therefore urgently appeal to all our viewers to donate to our Fighting Fund.
---
In The Socialist 28 January 2009:

JOIN THE MARCH FOR JOBS

Defend jobs and services

Era of illusions in capitalism ending

The crisis in manufacturing: Fighting for jobs and living standards

No pay discrimination against young people

Ferengi dealers
---
Slaughter in Gaza

Coventry protest over Gaza onslaught

Israel: Thousands march in Jaffa against Gaza massacre

Students' angry sit-ins
---
Anti-racism

Stop the racist BNP

Stop the deportation of Yahya Al-Faifi
---
Socialist Party campaigns

Socialist councillor opposes Tory plans for education privatisation

Labour's abandoning of the working class

Croydon: Striking against academies

Scotland: Step up opposition to cuts

Fast News
---
Socialist Party workplace news

Fighting council cuts

Say 'no' to the Metro privateers

Amicus Unity Gazette left with egg on its face

Unison right wing exposed

Victory for left in Glasgow Unison

Solid support for Glasgow strike

Building a fighting Unison leadership
---
Education

Build a mass movement for free education

Save our school!
---
Marxist analysis: history

Germany 1919 The Spartacist uprising
---
International socialist news and analysis

Russia: Bosses sack auto-factory union leader

Courageous socialist activist, campaigning journalist and human rights activist
---
Socialist Party news

Obituary - Barry Malone
---
Socialist Party reviews

A People's History of Sports in the United States

The Reader
---
Home | The Socialist 28 January 2009 | Join the Socialist Party
---