Link to this page: https://www.socialistparty.org.uk/issue/567/6922
From The Socialist newspaper, 17 February 2009
Fight back now to stop job cuts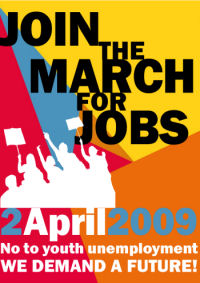 Join the march for jobs
SACKED AT an hour's notice! And with no redundancy pay even after years of continuous work. That's what the bosses did to 850 workers at the BMW car plant at Cowley, Oxford.
Ben Robinson
These sackings typify the plight of workers today in 'casualised Britain' plc. The 850 sacked workers were agency staff who didn't have the same employment rights as permanent workers.
As one outraged worker put it: "It's the unfairness of the way people are treated in large corporations such as BMW. Why is it allowed to happen that people like myself go to work, give the company fairness, loyalty, commitment, and try to build a better life for [themselves], then half an hour later they can just be told: 'You haven't got a job any more'?"
The simple but brutal answer is that under capitalism if you're not making sufficient profits (and BMW is still making profits) you're shown the door. Moreover, it shows that New Labour isn't interested in changing the law to protect these workers if it means hurting the profits of big business. Meanwhile job-cutting multinationals are hiring lawyers and accountants to figure out how to cut down on redundancy pay for permanent workers like they did recently at Marks and Spencer.
The BMW workers will add to the nearly two million workers who are officially unemployed. Many of them will now be forced to live on the pittance that is Job Seekers Allowance (JSA). If you're under 24 the JSA rate is a paltry £47.95 a week.
If you can make ends meet on this income, together with other miserly benefits, you've got far better finance management skills than those running Britain's banks!
Some Tory MPs, showing their true colours, suggest abolishing the national minimum wage as a 'solution' to unemployment. Even though these proposals are unlikely to be passed, the political elite all want to make workers and young people pay the price for this capitalist crisis.
Alternative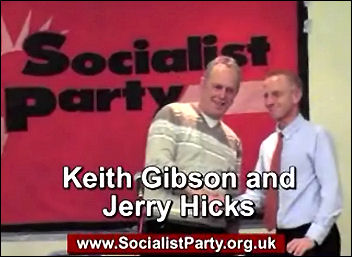 Video of Public meeting on lessons of the Lindsey oil refinery strike, Keith Gibson and Jerry Hicks, photo Socialist Party
But is there an alternative to the bosses' jobs slaughter? Yes, there is. Striking workers at Lindsey won jobs on trade union-agreed pay and conditions with the right to inspect employment records and ensure that all workers on the site are on the same conditions. The lesson for workers and young people is that struggles can be won if conducted on fighting lines.
Workers, trade unionists, and young people have two roads before them. One is that of Woolworths and Zavvi, of massive job losses and lengthening dole queues. The other is of fighting back, the path of Lindsey oil refinery and other construction workers around the country, of the workers occupying Waterford Crystal in Ireland and of the many other campaigns taking place that you can read about in The Socialist.
The Youth Fight for Jobs campaign is winning support from trade unionists and campaigners across the country. We say 'no' to increasing unemployment. If the government can bail out the banks to the tune of billions of pounds, they should be able to offer young people a decent future.
We're fighting for a real programme of job creation. Why should car workers lose their jobs when their skills are urgently needed, in order to mass-produce vitally needed 'green' technologies for instance? Why should people have to take several jobs working long hours whilst others are unemployed? Why should graduates not be able to use their skills in a socially productive way?
If you agree with us, get involved in Youth Fight for Jobs and join our demonstration on 2 April.
We fight for:
The right to a decent job for all, with a minimum wage of at least £8 an hour.
No to cheap labour apprenticeships! All apprenticeships to pay at least the minimum wage, with a job guaranteed at the end.
No to university fees. Support the Campaign to Defeat Fees.
---
>
Join the march for jobs
Thursday 2 April
No to youth unemployment
We demand a future
Why not click here to join the Socialist Party, or click here to donate to the Socialist Party.
---
In The Socialist 17 February 2009:

Fight back now to stop job cuts

Anger as jobs slashed with an hour's notice

Car workers' jobs slaughter - begin the fightback!

Defend every job on the tube

Construction workers protest: Staythorpe power station

Isle of Grain picket

Meeting on Lindsey oil refinery dispute: Workers strike back

Why the bosses don't want an organised workforce
---
Socialist Students

Stop fees

Students protest against attacks on Gaza

'Books not Bombs' at Nottingham

Concessions won at Queen Mary university
---
Socialist Party editorial

New Labour in blind panic

Regulators resign over financial meltdown
---
Sport

London Olympics battered by economic crisis
---
Socialist Party campaigns

Yahya must stay Defend Saudi Arabian trade unionist from deportation

Coventry: Hands off our youth services!

Political vendetta against Tommy Sheridan

Wirral cuts: Fighting 'cultural terrorism'

Fast news
---
Socialist Party feature

Defend the welfare state
---
International socialist news and analysis

Israel: Election results indicate a deepening political crisis

Costa Rica: Urgent solidarity action for unionists
---
Socialist Party workplace news and analysis

Manchester Unison elections: Left candidates well supported

Usdaw presidential election: The campaign they tried to hide

Usdaw Activist public meeting

Fight the Unison witch-hunt

Launch of new broad left for Unite
---
Home | The Socialist 17 February 2009 | Join the Socialist Party
---