Link to this page: https://www.socialistparty.org.uk/issue/567/6932
From The Socialist newspaper, 18 February 2009
Defend every job on the tube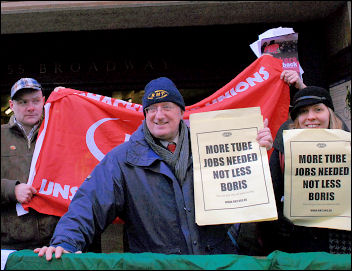 RMT protest against job losses is joined by the Shop Stewards Network, photo by Paul Mattsson
London Underground are to cut 1,000 jobs, already they are seeking voluntary redundancies. If these aren't taken up they will no doubt come back and attempt to sack workers.
Roger James, an underground worker
They dress this up as organisational change and restructuring. But for the 1,000 people this means the distress and misery of no job and explaining to their family that there is no money to pay for the day-to-day necessities. Forget the school trips, forget the summer holiday.
London Underground carries up to four million passengers every day, it cannot operate with less staff.
Hundreds of millions of pounds have been wasted by pouring money into the various privatised companies. The directors of these companies and of London Underground have paid themselves huge salaries and bonuses and they say there is no money to pay us a wage increase to keep pace with inflation. Now they say jobs must be shed.
The money is there when they want it. The government has found billions of pounds to prop up the bankers and the City of London. Still now the directors of the banks insist they are worth huge bonuses, whilst they sack thousands of bank workers.
We must say enough is enough. We must demand that staffing levels go back to the levels before recruitment was frozen. We must demand a pay increase to compensate for the inflationary rises in prices in 2008. We must demand that there are no attacks on working conditions or pensions.
The rail union RMT should lead a movement to defend jobs nationally. We should back the youth march for jobs coinciding with the G20 meeting in April.
If necessary we should strike to defend jobs in the rail industry in London and nationally, breaking the anti-trade union laws if we must.
Lobbying the bosses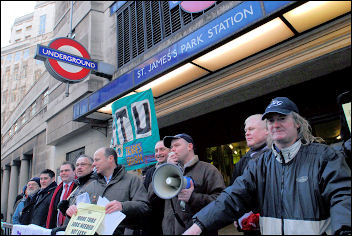 RMT protest against job losses is joined by the Shop Stewards Network, photo Paul Mattsson
London Underground workers lobbied LU headquarters on 11 February in protest at the threatened job cuts.
Ollie New, a member of the national executive of the RMT, spoke to Chris Newby: "There is a need for more workers on London Transport. We don't accept any job cuts, especially when the government is giving millions of pounds to the bankers.
"We will be discussing nationally how to ratchet up the whole campaign. We're against any job cuts and we won't see any happen without a fight."
Manuel Cortes, the assistant general secretary of TSSA, the rail union representing many of the workers under threat, also told The Socialist: "Make no mistake, if one of our members is threatened with compulsory redundancy we will not hesitate to ballot for strike action."
Why not click here to join the Socialist Party, or click here to donate to the Socialist Party.
---
In The Socialist 18 February 2009:

Fight back now to stop job cuts

Anger as jobs slashed with an hour's notice

Car workers' jobs slaughter - begin the fightback!

Defend every job on the tube

Construction workers protest: Staythorpe power station

Isle of Grain picket

Meeting on Lindsey oil refinery dispute: Workers strike back

Why the bosses don't want an organised workforce
---
Socialist Students

Stop fees

Students protest against attacks on Gaza

'Books not Bombs' at Nottingham

Concessions won at Queen Mary university
---
Socialist Party editorial

New Labour in blind panic

Regulators resign over financial meltdown
---
Sport

London Olympics battered by economic crisis
---
Socialist Party campaigns

Yahya must stay Defend Saudi Arabian trade unionist from deportation

Coventry: Hands off our youth services!

Political vendetta against Tommy Sheridan

Wirral cuts: Fighting 'cultural terrorism'

Fast news
---
Socialist Party feature

Defend the welfare state
---
International socialist news and analysis

Israel: Election results indicate a deepening political crisis

Costa Rica: Urgent solidarity action for unionists
---
Socialist Party workplace news and analysis

Manchester Unison elections: Left candidates well supported

Usdaw presidential election: The campaign they tried to hide

Usdaw Activist public meeting

Fight the Unison witch-hunt

Launch of new broad left for Unite
---
Home | The Socialist 18 February 2009 | Join the Socialist Party
---