Link to this page: https://www.socialistparty.org.uk/issue/567/6933
From The Socialist newspaper, 18 February 2009
Construction workers protest: Staythorpe power station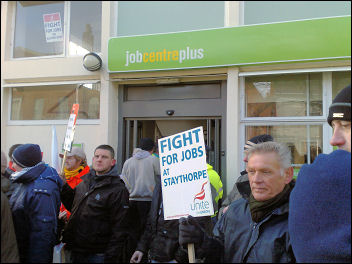 Staythorpe power station construction workers protest outside Newark Jobcentre, photo Steve Score
Power station workers joined hundreds of protesters in an early morning walkout on 11 February.
Steve Score, East Midlands Socialist Party
Workers marched to Newark Jobcentre and entered en-masse to get application forms for work on the Staythorpe power station site, after a picket of the power station. There was anger that the jobs are advertised in the Jobcentre, but when applications are forwarded on to the contractor, they seem to be ignored.
Keith Gibson, one of the leaders of the Lindsey refinery strike, spoke to protesting construction workers outside the Jobcentre.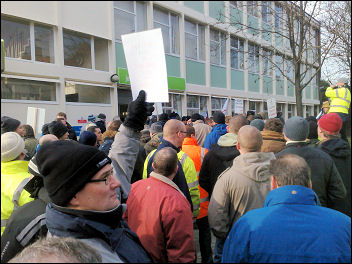 Staythorpe power station construction workers protest outside Newark Jobcentre, photo Steve Score
"We are demanding the right to work. If we don't win this battle, that's the future, signing on at Jobcentres. I think we've got to call on our leadership, the leadership of Unite, the leadership of the GMB, the TUC and demand a national demonstration in London to wake the government up; to say that working people demand a political voice. But unfortunately we haven't got that political voice.
"We want jobs, we want a government that supports working people. I think that we should say to all our local and national trade union officials that we demand a one-day stoppage in this industry and a march on parliament."
Why not click here to join the Socialist Party, or click here to donate to the Socialist Party.
---
In The Socialist 18 February 2009:

Fight back now to stop job cuts

Anger as jobs slashed with an hour's notice

Car workers' jobs slaughter - begin the fightback!

Defend every job on the tube

Construction workers protest: Staythorpe power station

Isle of Grain picket

Meeting on Lindsey oil refinery dispute: Workers strike back

Why the bosses don't want an organised workforce
---
Socialist Students

Stop fees

Students protest against attacks on Gaza

'Books not Bombs' at Nottingham

Concessions won at Queen Mary university
---
Socialist Party editorial

New Labour in blind panic

Regulators resign over financial meltdown
---
Sport

London Olympics battered by economic crisis
---
Socialist Party campaigns

Yahya must stay Defend Saudi Arabian trade unionist from deportation

Coventry: Hands off our youth services!

Political vendetta against Tommy Sheridan

Wirral cuts: Fighting 'cultural terrorism'

Fast news
---
Socialist Party feature

Defend the welfare state
---
International socialist news and analysis

Israel: Election results indicate a deepening political crisis

Costa Rica: Urgent solidarity action for unionists
---
Socialist Party workplace news and analysis

Manchester Unison elections: Left candidates well supported

Usdaw presidential election: The campaign they tried to hide

Usdaw Activist public meeting

Fight the Unison witch-hunt

Launch of new broad left for Unite
---
Home | The Socialist 18 February 2009 | Join the Socialist Party
---