Link to this page: https://www.socialistparty.org.uk/issue/568/6981
From The Socialist newspaper, 24 February 2009
Organise to defend jobs
Share out the work with no loss of pay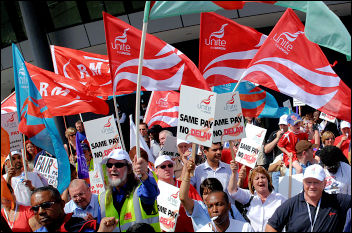 Bus workers demonstrate over pay, photo Paul Mattsson
"Police fear summer of rage", reported The Guardian on Monday 23 February. Looking at the latest figures for unemployment and redundancies, it's not surprising that a reaction from workers is feared.
Ted Smith, Birmingham Socialist Party
Around 120,000 workers demonstrated in Dublin last Saturday against the Irish government's attempts to make them pay for the economic crisis through swingeing cuts in pensions and services.
As unemployment soars, so too does the social devastation which is a by-product of recession. In Birmingham alone Ministry of Justice figures paint a depressing picture: eleven families were evicted from their homes every day during 2008, an increase of 35% on the figure for 2007.
Undoubtedly 2009 will be a year of huge challenges for workers in Britain, and internationally. On the back of news that BMW viciously sacked 850 agency workers at one hour's notice at their plant in Cowley, van maker LDV is now reported to be in serious difficulties. The factory in Washwood Heath, Birmingham hasn't produced a vehicle since 12 December 2008. The Russian parent company Gaz, owned by Peter Mandelson's mate Oleg Deripaska, is looking to jettison the firm. Erik Eberhardson, the outgoing Gaz chairman, claims that without an immediate injection of cash, over six thousand jobs (including dealers and supply chain) are under threat. This is a fight for the survival of the entire motor industry in the UK.
Workers are understandably asking: 'They bail out the banks, where's the bailout to save our jobs?'
However, working-class people can win if they organise and fight back. A combative, fighting response is essential to defeat the attempts to make working-class people pay for this crisis.
Maximum pressure must be placed on the trade union leaders to act. They have called a national demonstration against job losses on Saturday 28 March but this must not just be used to let off steam. Industrial action will also be necessary. The magnificent strike by the workers at Lindsey oil refinery against the bosses' attempts to drive a wedge through pay and conditions proved that decisive action can win.
The Socialist Party calls for full socialist nationalisation of any car plant or ancillary industry factory that faces closure and for them to be run democratically under workers' control and management. Where necessary they should be retooled in order to switch production to environmentally friendly and socially necessary vehicles and products.
The same goes for the creaking financial sector. If it were to be genuinely nationalised, a national state-owned bank could help working people through these difficult times by allowing them to stay in their homes. Repossessions could be stopped and mortgages converted to affordable rents where necessary.
However, the capitalists and their representatives in New Labour, the Tories and the Liberals prefer to only nationalise the losses, leaving working and middle class people to foot the bill. This is why we need a party of our own. Trade unions should stop funding New Labour and put their weight behind building a new party that ordinary working people can be sure will fight for their interests - not the bosses'!
Why not click here to join the Socialist Party, or click here to donate to the Socialist Party.
---
In The Socialist 24 February 2009:
---
No Job Cuts

Organise to defend jobs

Car industry in crisis: Death of jobs by a thousand cuts

Jobs protest continues

Workers march for jobs in Cardiff

Fight to save Royal Mail
---
Campaign for a New Workers Party

What do union members get from Labour link?
---
International socialist news and analysis

Ireland: workers say 'We won't pay for your crisis'

General strike movement grips island of Guadeloupe

Kashmir: Health workers take strike action
---
Marxist analysis: history

Iran 1979: A revolution that was taken from the working class
---
Sport

ECB suffers Stanford hangover
---
Socialist Party campaigns

Defend Yahya Al Faifi campaign

BNP bigots retreat under pressure

Greenwich: "Hands off my school"

Look at the gravy train!

Devon residents against incinerators
---
Socialist Party workplace news

Leeds journalists strike against job cuts

Successful launch for United Left

Manchester Unison: Good vote for left

Protest at the Unison witch-hunt - date change
---
Home | The Socialist 24 February 2009 | Join the Socialist Party
---