Link to this page: https://www.socialistparty.org.uk/issue/569/7001
From The Socialist newspaper, 3 March 2009
Bosses get pay-offs, workers get layoffs
Fight to defend jobs and pay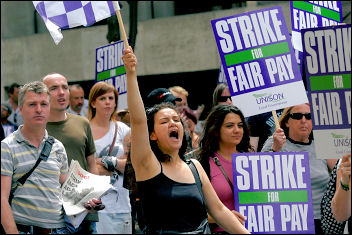 Unison Local Government strike 16-17 July in London, photo Paul Mattsson
THE CAPITALIST economy is going deeper into recession. 320,000 jobs could be destroyed in Britain in the next three months, 'business advisers' now predict. Over two million people are already out of work. The unemployment figures are beginning to look like those during the Thatcher era's destruction of industry.
Roger Shrives
But the rich greedy capitalists, who brought the economy to its knees, don't want to pay for their crisis. Their main priority is to keep their wealth and, if possible, get even richer.
Sir Fred Goodwin, the former Royal Bank of Scotland (RBS) chief, dragged his bank into the biggest corporate loss in British history totalling £24 billion. Before he went, Goodwin grabbed his own £693,000 a year pension. A few years ago, however, he raised the minimum age at which employees could get an ordinary RBS pension from 50 to 55. He also savagely cut the amounts available (see page 3).
It's pay-offs and pots of gold for bosses like Goodwin, but layoffs and poverty for workers!
Now the misery threatens to spread to the public sector. Steve Bundred, chair of the Audit Commission, the body which monitors NHS and local council spending, warns of future 'Armageddon levels' of public debt and public sector borrowing, which are already rising fast. Bundred says that Labour's tax rises will not cover the greatly increased costs. A future government, he predicts, will have to carry out huge public spending cuts.
Job losses, cuts in wages and conditions (including a pay freeze), service cuts and tax rises - these are the ways that the capitalist class want to tackle the crisis. These attacks, Bundred warns, will continue long after any signs of recovery appear.
Gordon Brown and his Cabinet have no answers to these problems. In cash-strapped Royal Mail, they back the old, failed policies of privatisation where private bosses dream of chiselling huge fortunes out of workers' hard labour and years of public investment. In the bankrupt banks they give big bailouts to executives in a form of 'capitalist nationalisation', where only the rich and the bosses' system gain.
Before the credit crunch started, profits were at record levels. Now, facing a crisis of declining profits, the bosses want workers to pay an even higher price. They are stepping up the class war.
The trade unions must fight the bosses' job-cutting, pay-slashing plans with the determination shown by the Lindsey oil refinery construction workers, using strikes, walkouts and protests.
Make the bosses pay for their own crisis! Where manufacturing bosses threaten job losses or pay cuts, the unions should call for the opening of the books. Let the workforce see the bosses' real accounts! What happened to all the profits made in the boom period? No to cuts in jobs and conditions - share out the work with no loss of pay for any worker.
If the bosses fail to invest to keep plants open or to pay a living wage, workers should demand that the government nationalises them, with compensation only for the poorest shareholders.
We should fight for such companies to be run under democratic workers' control and management in an example of socialist nationalisation, unlike the capitalist nationalisation of Brown and Co! We need democratic socialist planning to meet the needs of working people.
We should also take a fighting approach to attacks on public services, with strikes and joint campaigns of public-sector workers and service-users. The capitalist class have declared war on the working class. It is time to reply in kind.
Donate to the Socialist Party
Finance appeal
The coronavirus crisis has laid bare the class character of society in numerous ways. It is making clear to many that it is the working class that keeps society running, not the CEOs of major corporations.
The results of austerity have been graphically demonstrated as public services strain to cope with the crisis.
The Socialist Party's material is more vital than ever, so we can continue to report from workers who are fighting for better health and safety measures, against layoffs, for adequate staffing levels, etc.
We must be ready for the stormy events ahead and the need to arm workers' movements with a socialist programme - one which puts the health and needs of humanity before the profits of a few.
Inevitably, during the crisis we have not been able to sell the Socialist and raise funds in the ways we normally would.
We therefore urgently appeal to all our viewers to donate to our Fighting Fund.
---
In The Socialist 3 March 2009:

Bosses get pay-offs, workers get layoffs

RBS pension scandal: Not a penny for these fat cats!

Hands off our post!

Stop Labour's mail sell-off
---
Socialist Party Marxist analysis

Marx was right all along
---
Socialist Party feature

Has globalisation gone into reverse?

Our democratic rights under attack by Labour
---
Socialist Students

Anti-fees demo success - despite NUS leaders' obstructions

Cardiff student occupation: University divests from arms trade
---
Youth fight for jobs

Youth Fight for Jobs

The route
---
Construction workers

Construction workers plan more action

Message from strike leader
---
Socialist Party workplace news

Stop bullying at BT

Fight the cuts in Nottingham!

Sogefi workers demand strike

NUJ action

Cover supervisors: Teaching on the cheap

National Shop Stewards Network: Brighton launch meeting
---
Socialist Party women

International Women's Day 8 March: Don't make women pay for the bosses' crisis

Make all women's issues trade union issues

Solidarity with Constantina Kuneva
---
International socialist news and analysis

Ireland: Scrap the 'pension levy': Organise a one-day general strike

Kashmir: Health workers win demands
---
May Day

Support The Socialist on May Day this year
---
Home | The Socialist 3 March 2009 | Join the Socialist Party
---