Link to this page: https://www.socialistparty.org.uk/issue/569/7020
From The Socialist newspaper, 4 March 2009
Construction workers plan more action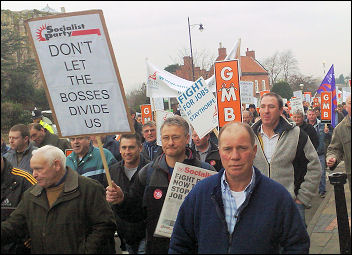 After a mass picket at Staythorpe power station contruction workers marched into Newark town centre, photo Steve Score
After another mass picket outside Staythorpe power station on 24 February to protest against the exclusion by Alstom of UK labour from jobs on the site, 3-400 construction workers marched into nearby Newark town centre demanding "What do we want? Jobs!"
Alistair Tice
At the rally, Unite union joint general secretary Derek Simpson said that cheap foreign labour was an attack on the national agreement. But when challenged from the floor: "What are you going to do about it?" he rounded on the hecklers calling them BNP and "tossers". He then used increasingly nationalist rhetoric before prematurely stepping down from the rostrum.
It's correct for Derek Simpson to say that: "It is a class issue, not a race issue". But if he then appears in the Daily Star with the British Jobs for British Workers slogan, and fails to lead action to achieve workers' demands, then scapegoating of foreign workers can grow. Disturbingly, a small minority of workers at the front of the march had chanted "Foreigners out!"
The Socialist Party showed how such nationalist moods can be countered during the Lindsey Oil Refinery (LOR) strike and has produced leaflets saying: "Our fight is not against foreign workers, it is with the bosses, the government and EU laws", and placards with slogans like "Stop the race to the bottom", "Don't let the bosses divide us", and "Workers of the world unite", for the Staythorpe/Newark protests.
It highlights the importance of the national dispute adopting a clear set of class demands, such as those adopted at the LOR strike mass meeting, and the need to campaign for them amongst the membership and promote them in the media.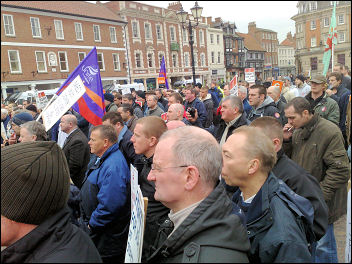 After a mass picket at Staythorpe power station contruction workers marched into Newark town centre, photo Steve Score
It was left to Jerry Hicks, left candidate in the current Unite/Amicus general secretary election, speaking through a megaphone after the official rally had been closed, to capture the mood of most construction workers present. He said that: "Five day's strike action at LOR achieved more than the union in five months". He could have said five years! And regarding the threat of sequestration of union funds, he said that whilst he would fight that: "What would we lose? The officials' cars, offices and £100K salaries?"
Increasingly, the mood amongst construction workers is that if the officials can't or won't organise action, then we'll have to.
Shop stewards' meetings took place after the Newark rally and in Sheffield on 28 February to formulate proposals to be put to the NAECI [the national agreement the bosses are trying to undermine] stewards' forum in Eastbourne on 9-10 March. These called for a midweek march on parliament and Alstom's HQ in London, to be supported by delegations from every site in the country. That could be the beginning of action that could achieve victory.
Why not click here to join the Socialist Party, or click here to donate to the Socialist Party.
---
In The Socialist 4 March 2009:

Bosses get pay-offs, workers get layoffs

RBS pension scandal: Not a penny for these fat cats!

Hands off our post!

Stop Labour's mail sell-off
---
Socialist Party Marxist analysis

Marx was right all along
---
Socialist Party feature

Has globalisation gone into reverse?

Our democratic rights under attack by Labour
---
Socialist Students

Anti-fees demo success - despite NUS leaders' obstructions

Cardiff student occupation: University divests from arms trade
---
Youth fight for jobs

Youth Fight for Jobs

The route
---
Construction workers

Construction workers plan more action

Message from strike leader
---
Socialist Party workplace news

Stop bullying at BT

Fight the cuts in Nottingham!

Sogefi workers demand strike

NUJ action

Cover supervisors: Teaching on the cheap

National Shop Stewards Network: Brighton launch meeting
---
Socialist Party women

International Women's Day 8 March: Don't make women pay for the bosses' crisis

Make all women's issues trade union issues

Solidarity with Constantina Kuneva
---
International socialist news and analysis

Ireland: Scrap the 'pension levy': Organise a one-day general strike

Kashmir: Health workers win demands
---
May Day

Support The Socialist on May Day this year
---
Home | The Socialist 4 March 2009 | Join the Socialist Party
---