Link to this page: https://www.socialistparty.org.uk/issue/571/7067
From The Socialist newspaper, 19 March 2009
Stop the witch-hunt
Build a fighting Unison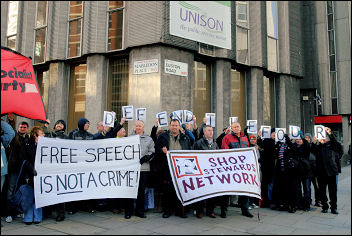 Demonstration outside Unison HQ against witchhunt of four unison members, photo Paul Mattsson
Four Socialist Party members are facing expulsion or a ban from holding office in their trade union Unison. Disciplinary hearings are being held against Glenn Kelly, a member of Unison's national executive, Onay Kasab, Greenwich Unison branch secretary, Suzanne Muna, Housing Corporation branch secretary and Hackney Unison chair Brian Debus.
This is just the latest in a long line of witch-hunts against activists who are vocal in their opposition to Unison's leadership.
All four have a proud record of standing up for their members and leading struggles against their employers. They are fully supported by their branches. They have received overwhelming support from members who have protested against these attacks, especially at the 2008 Unison conference.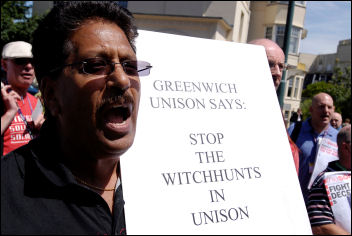 Unison conference 2008 anti-witchhunt protest, photo Paul Mattsson
The disciplinary investigation was instigated a year and a half ago and the four have already faced a three-day hearing in May 2008.
In June 2007 the union bureaucracy launched a disciplinary investigation into five branch officers. Their 'crime' was publishing a leaflet attacking the leadership for blocking the union conference's right to debate issues such as the funding of the Labour Party, the election of full-time officials and control over strike action.
A third of all motions were ruled out of order at the 2007 conference and nearly half for the 2008 conference. Five members were investigated but only the four Socialist Party members are facing disciplinary charges, underlining the political nature of this attack.
Within weeks of the first hearing where the four were accused of causing racist offence for using a cartoon of the three wise monkeys, paid national officials of the union held a protest outside the local government employers' conference over the pay offer - during which they handed out peanuts and bananas to delegates, some of whom were black and Asian!
Then it was discovered that the Unison South East regional disabled members' committee used a cartoon of the three wise monkeys on one of their leaflets. An officially sanctioned leaflet was distributed to Unison national women's conference, which again used the three wise monkeys!
These examples highlight the hypocrisy of the union and show that this case has never had anything to do with the issue of racism and everything to do with a political witch-hunt.
As the recession bites, public sector workers will be amongst those who are made to pay for the economic mess, if the government gets its way. This makes a fighting trade union leadership even more important. Yet these Unison leaders are trying to silence any voices of opposition through witch-hunts, taking over branches and banning the right to campaign. They hand over millions of pounds to New Labour whilst jobs, wages and conditions are being attacked by the same Labour government.
Unison members will soon have an opportunity to change the leadership of the union when the elections for a new National Executive Council open in a few weeks time.
In the meantime, Unison members and other trade unionists are lobbying the disciplinary hearings on 19 March and will continue to campaign against victimisation of union activists.
Why not click here to join the Socialist Party, or click here to donate to the Socialist Party.
---
In The Socialist 19 March 2009:

Fight tuition fees: fight for jobs: fight for a future!

Youth march for jobs
---
Unison witch-hunt

Stop the witch-hunt
---
International socialist news and analysis

Worldwide protests at killings of Tamils

Rosa Luxemburg - still relevant today

Ireland: Make the rich pay

Tibet: The 1959 uprising
---
Socialist Party campaigns

The miners were right!

End the 'benefits trap'

Liverpool University: Stop the cuts!

Tube strike ballot

Crisis in the legal aid system
---
Socialist Party congress

Socialist Party congress reports

Videos of Socialist Party Congress 2009

Perspectives for Britain and the world 2009
---
Socialist Party election campaign

The European elections and working-class representation

Lessons of the 2004 election

Campaign for a New Workers' Party

CNWP website
---
Socialist Party workplace news

Strike threat wins job back

Isle of Grain - Low-paying contractor exposed

£2.5 bn profit, but BT still announces pay freeze

Rhyl: One-day teachers' strike

Rooftop protest wins apology from Royal Mail

Airwave Solutions: Striking against job cuts

Salford university
---
Home | The Socialist 19 March 2009 | Join the Socialist Party
---