Link to this page: https://www.socialistparty.org.uk/issue/571/7069
From The Socialist newspaper, 18 March 2009
Videos of Socialist Party Congress 2009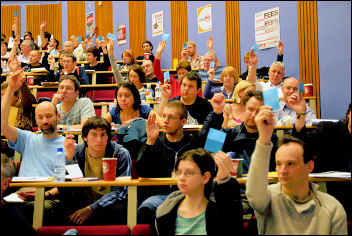 Socialist Party congress 2009, photo Paul Mattsson
Highlights Part one: Lindsey oil refinery dispute and the RMT executive proposals 9 mins 30 secs
---
>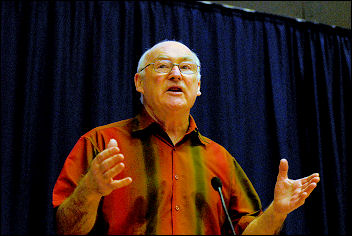 Peter Taaffe addresses Socialist Party Congress 2009, photo Paul Mattsson
World economic crisis and perspectives for Britain: Peter Taaffe proposes the Socialist Party National Executive Committee's congress document
Why not click here to join the Socialist Party, or click here to donate to the Socialist Party.
---
In The Socialist 18 March 2009:

Fight tuition fees: fight for jobs: fight for a future!

Youth march for jobs
---
Unison witch-hunt

Stop the witch-hunt
---
International socialist news and analysis

Worldwide protests at killings of Tamils

Rosa Luxemburg - still relevant today

Ireland: Make the rich pay

Tibet: The 1959 uprising
---
Socialist Party campaigns

The miners were right!

End the 'benefits trap'

Liverpool University: Stop the cuts!

Tube strike ballot

Crisis in the legal aid system
---
Socialist Party congress

Socialist Party congress reports

Videos of Socialist Party Congress 2009

Perspectives for Britain and the world 2009
---
Socialist Party election campaign

The European elections and working-class representation

Lessons of the 2004 election

Campaign for a New Workers' Party

CNWP website
---
Socialist Party workplace news

Strike threat wins job back

Isle of Grain - Low-paying contractor exposed

£2.5 bn profit, but BT still announces pay freeze

Rhyl: One-day teachers' strike

Rooftop protest wins apology from Royal Mail

Airwave Solutions: Striking against job cuts

Salford university
---
Home | The Socialist 18 March 2009 | Join the Socialist Party
---