Link to this page: https://www.socialistparty.org.uk/issue/572/7077
From The Socialist newspaper, 25 March 2009
Rail union launches euro election challenge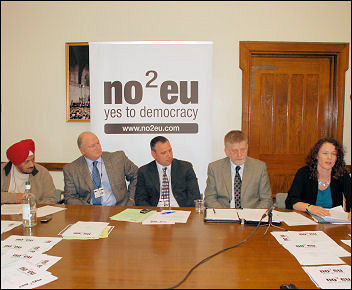 Press conference as RMT launches Euro challenge in 2009, photo by Suzanne Beishon
AS THE G20 leaders assemble in London this week to discuss the worst economic crisis since the 1930s, even the most casual onlooker must be asking, 'aren't these the same people who got us into this mess in the first place?'
Clive Heemskerk
After all, Gordon Brown boasted at his Mansion House speech before business leaders in 2007 that his New Labour government had helped create "a new golden age for the City".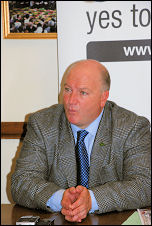 Press conference as RMT launches Euro challenge in 2009, photo Suzanne Beishon
The millions of people now facing job losses, home repossessions, short-time working and wage cuts as a result of the system's crisis can expect nothing from capitalist politicians. Workers, with no mass political party representing them, will have no voice at the G20.
That's why the announcement last week that the Rail, Maritime and Transport workers' union (RMT) is backing an electoral alliance to contest the European elections in June is so important. For the first time ever a national trade union, the RMT, the most militant industrial union in Britain, is mounting an electoral challenge to New Labour, under the name No2EU-Yes to Democracy.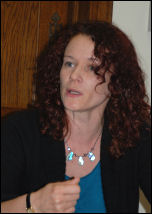 Press conference as RMT launches Euro challenge in 2009, photo Suzanne Beishon
This is a temporary coalition for the European elections only. Its platform concentrates on opposition to the European Union (EU) constitution (now re-packaged as the Lisbon treaty) - which enshrines free market economics into EU law - the EU's pro-privatisation directives, and the anti-trade union and 'social dumping' rulings of the European Court of Justice. But still, it represents another step towards rebuilding working class political representation, absent from Britain since the 1990s' transformation of the Labour Party into the completely capitalist New Labour.
Predictably, some media coverage tried to paint the RMT's move as 'narrow nationalism'. But RMT general secretary Bob Crow was clear in his response: "We want a workers' Europe, not the bosses' EU", he said. Workers in Britain, he went on, "have more in common with workers across Europe than we do with Freddie Goodwin and other bosses", who have gained from the EU's pro-market policies.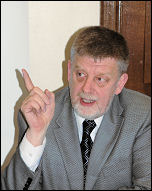 Press conference as RMT launches Euro challenge in 2009, photo Suzanne Beishon
Socialist Party councillor Dave Nellist, a Labour MP in 1983-1992, also spoke at the No2EU press launch, pointing to the threat of the far-right BNP picking up protest votes in June. "But now workers alienated by the mainstream capitalist parties have their own candidates to vote for", he said. He also explained how measures such as the part-privatisation of Royal Mail, the first step to its complete sell-off, are linked to EU directives to introduce deregulated markets into public services.
Also on the press launch platform were the vice president of the Indian Workers Association, Avtar Sadiq, a representative of the Morning Star newspaper, and the deputy general secretary of the Socialist Party, Hannah Sell, who gave the backing of the Socialist Party to the coalition.
June's Euro-poll will be the first electoral test in Britain since the economic crisis dramatically escalated in October last year. Now we will have a chance to vote for a workers' alternative.
Find out more about No2EU-Yes to Democracy at www.no2eu.com
Donate to the Socialist Party
Coronavirus crisis - Finance appeal
The coronavirus crisis has laid bare the class character of society in numerous ways. It is making clear to many that it is the working class that keeps society running, not the CEOs of major corporations.
The results of austerity have been graphically demonstrated as public services strain to cope with the crisis.
The government has now ripped up its 'austerity' mantra and turned to policies that not long ago were denounced as socialist. But after the corona crisis, it will try to make the working class pay for it, by trying to claw back what has been given.
The Socialist Party's material is more vital than ever, so we can continue to report from workers who are fighting for better health and safety measures, against layoffs, for adequate staffing levels, etc.
Our 'fighting coronavirus workers' charter', outlines a programme to combat the virus and protect workers' living conditions.
When the health crisis subsides, we must be ready for the stormy events ahead and the need to arm workers' movements with a socialist programme - one which puts the health and needs of humanity before the profits of a few.
Inevitably, during the crisis we have not been able to sell the Socialist and raise funds in the ways we normally would.
We therefore urgently appeal to all our viewers to donate to our special coronavirus appeal.
---
In The Socialist 25 March 2009:

Capitalist crisis: Make the bosses pay!

March for jobs!

Map of Youth March for Jobs route
---
Socialist Party editorial

Tide of job losses must be fought
---
Socialist Party election campaign

Rail union launches euro election challenge

An appeal from Bob Crow

No2EU Financial Appeal pdf

NO2EU Supporter appeal pdf
---
Socialist Party campaigns

Students need a mass fighting organisation

Credit crunch hits home

Campaign for a new workers' party

MPs - an honourable profession!

Fast News
---
Socialist Party feature

The uncaring care sector

Pay for your own vetting
---
Socialist Party marxist analysis

State repression in Britain

Keeping (illegal) tabs on us
---
International socialist news and analysis

France: Three million take to the streets in national strike

Canada: "Fighting back makes a difference"

Mass demo in New York against budget cuts

Scotland: International Socialists conference a big step forward

Dundee Prisme occupation: Workers remain defiant

Stop the slaughter of Tamils: London campaign meeting
---
Socialist Party workplace news

Nom-dom jobs slasher

New allegations hit Unison's right wing

Unison Four to face further hearings

Wales: United battle needed to stop college cuts

Fighting for justice for cleaners!

PCS Land Registry jobs and pay campaign

Workplace news in brief
---
Home | The Socialist 25 March 2009 | Join the Socialist Party
---