Link to this page: https://www.socialistparty.org.uk/issue/572/7099
From The Socialist newspaper, 25 March 2009
City of London
Fighting for justice for cleaners!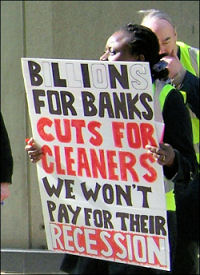 Cleaners employed by contractors Mitie protested outside the Willis building in the City of London, photo Chris Newby
Cleaners employed by contractors Mitie protested outside the Willis building in the City of London on 20 March. Mitie have the contract to clean the Willis building, the headquarters of a global insurance broker.
Chris Newby
The cleaners are all members of Unite and are part of the Justice for Cleaners campaign. After a long battle, these workers won a pay increase from £5.73 to £7.20 an hour.
But Mitie changed their shifts from a part-time evening to a full time night shift, which many workers with family responsibilities cannot manage. Also key union activists have been sacked in a "restructuring" exercise.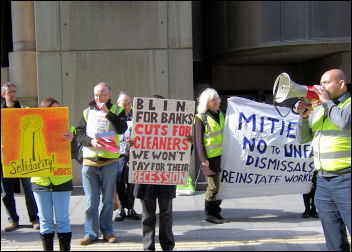 Cleaners employed by contractors Mitie protest, photo Chris Newby
Alberto, a cleaner at another City building came to support the workers on the protest. He told The Socialist: "In my own site 30 of us fought for the living wage. The company tried to do the same to us. They want to make the shifts longer and get rid of some workers. But we stuck together and we are fighting back. They want to dismiss shop stewards at lots of different sites. They want to destroy our campaign.
"But we are trying to send a message to all workers that if we stand together we can win."
Donate to the Socialist Party
Coronavirus crisis - Finance appeal
The coronavirus crisis has laid bare the class character of society in numerous ways. It is making clear to many that it is the working class that keeps society running, not the CEOs of major corporations.
The results of austerity have been graphically demonstrated as public services strain to cope with the crisis.
The government has now ripped up its 'austerity' mantra and turned to policies that not long ago were denounced as socialist. But after the corona crisis, it will try to make the working class pay for it, by trying to claw back what has been given.
The Socialist Party's material is more vital than ever, so we can continue to report from workers who are fighting for better health and safety measures, against layoffs, for adequate staffing levels, etc.
Our 'fighting coronavirus workers' charter', outlines a programme to combat the virus and protect workers' living conditions.
When the health crisis subsides, we must be ready for the stormy events ahead and the need to arm workers' movements with a socialist programme - one which puts the health and needs of humanity before the profits of a few.
Inevitably, during the crisis we have not been able to sell the Socialist and raise funds in the ways we normally would.
We therefore urgently appeal to all our viewers to donate to our special coronavirus appeal.
---
In The Socialist 25 March 2009:

Capitalist crisis: Make the bosses pay!

March for jobs!

Map of Youth March for Jobs route
---
Socialist Party editorial

Tide of job losses must be fought
---
Socialist Party election campaign

Rail union launches euro election challenge

An appeal from Bob Crow

No2EU Financial Appeal pdf

NO2EU Supporter appeal pdf
---
Socialist Party campaigns

Students need a mass fighting organisation

Credit crunch hits home

Campaign for a new workers' party

MPs - an honourable profession!

Fast News
---
Socialist Party feature

The uncaring care sector

Pay for your own vetting
---
Socialist Party marxist analysis

State repression in Britain

Keeping (illegal) tabs on us
---
International socialist news and analysis

France: Three million take to the streets in national strike

Canada: "Fighting back makes a difference"

Mass demo in New York against budget cuts

Scotland: International Socialists conference a big step forward

Dundee Prisme occupation: Workers remain defiant

Stop the slaughter of Tamils: London campaign meeting
---
Socialist Party workplace news

Nom-dom jobs slasher

New allegations hit Unison's right wing

Unison Four to face further hearings

Wales: United battle needed to stop college cuts

Fighting for justice for cleaners!

PCS Land Registry jobs and pay campaign

Workplace news in brief
---
Home | The Socialist 25 March 2009 | Join the Socialist Party
---