Link to this page: https://www.socialistparty.org.uk/issue/573/7105
From The Socialist newspaper, 31 March 2009
No2EU - Yes to Democracy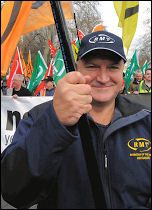 Bob Crow on the anti-G20 demo, photo Paul Mattsson
The No2EU-Yes to Democracy electoral coalition, headed by Bob Crow, the general secretary of the RMT transport workers' union, will be contesting seats in June's European elections.
The coalition will campaign against the EU-led privatisation of our public services, for workers' rights, and in opposition to the EU constitution (now repackaged as the Lisbon Treaty), which puts into EU law the failed doctrines of free market economics.
The immediate task facing the coalition in the next couple of weeks is to raise the funds necessary to enable it to stand as widely as possible across Britain. The RMT is financially backing the campaign but its national political fund is limited. So while many other national trade unions continue to use their political funds to finance New Labour, No2EU-Yes to Democracy will have to rely on the support of individual trade unionists.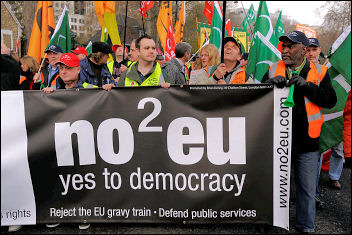 NO2EU on the 'Put People First' demo, photo Paul Mattsson
An appeal sheet has been produced, with a message from Bob Crow, which should be used to collect donations urgently. For copies of this, and to find out more information, go to the website at www.no2eu.com
Postal donations, with cheques made out to 'No2EU-Yes to Democracy', should be sent to Unity House, 39 Chalton Street, London NW1 1JD, with your name and address.
Why not click here to join the Socialist Party, or click here to donate to the Socialist Party.
---
In The Socialist 31 March 2009:

The G20 leaders have no solution to the crisis...

Fight for a future!

Youth Fight for Jobs conference

Why I'm marching

The grim reality of job-hunting
---
G20 protests

G20 Summit: Capitalism facing 'make or break'

Free market system killing our planet

UEL clampdown

Bail out workers, not Wall Street!
---
Socialist Party workplace news

Visteon workers occupy Belfast factory

Construction workers' protests continue

Socialist stands in Aslef leadership elections

College teachers strike in Eastbourne

Unison needs a fighting leadership: Leeds City Council

Whipps Cross Hospital

Unison elections
---
Socialist Party Marxist analysis

Economic crisis turning into political action
---
Socialist Party election campaign

No2EU - Yes to Democracy

Dave Nellist on the Politics Show
---
Socialist Party campaigns

Poor hit by price rises

No to privatised polyclinics

Gordon Brown meets the bankers

Sack the bankers not the workers!

Fast News
---
International socialist news and analysis

Now that the profits are drying up in the Indian software industry

Sweden: Socialist councillor viciously assaulted by Nazis
---
Home | The Socialist 31 March 2009 | Join the Socialist Party
---