Link to this page: https://www.socialistparty.org.uk/issue/573/7106
From The Socialist newspaper, 31 March 2009
Dave Nellist on the Politics Show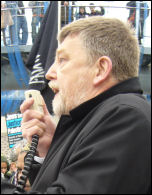 Dave Nellist addressing Gaza rally, photo Coventry Socialist Party
THE SOCIALIST Party councillor and No2EU-Yes to Democracy campaign representative Dave Nellist was interviewed on the BBC Politics Show on Sunday 29 March.
Outlining the importance of an independent, trade union-backed campaign in the elections, Dave pointed out: "Without our intervention, there will be a sterile debate amongst the big three parties who all agree with an expanding and more centralised European Union".
He went on to state that due to EU directives: "In the middle of a recession, jobs and factories are being exported from this country to low-wage economies while multinational companies are playing fast and loose with trade union agreements. Working people need an independent voice in favour of jobs and working conditions; without a campaign like ours, they won't get it from anybody else".
RMT general secretary Bob Crow was also featured on the programme stating: "We need a proper European union of workers, not a European Union of bosses".
The same feature also included a pre-recorded uncritical interview with a West Midlands British National Party candidate. This clearly shows the importance of a pro-working class, anti-racist alternative in the European elections. Without the RMT-backed No2EU-Yes to Democracy slate, working class people would be left without a voice in this debate.
Why not click here to join the Socialist Party, or click here to donate to the Socialist Party.
---
In The Socialist 31 March 2009:

The G20 leaders have no solution to the crisis...

Fight for a future!

Youth Fight for Jobs conference

Why I'm marching

The grim reality of job-hunting
---
G20 protests

G20 Summit: Capitalism facing 'make or break'

Free market system killing our planet

UEL clampdown

Bail out workers, not Wall Street!
---
Socialist Party workplace news

Visteon workers occupy Belfast factory

Construction workers' protests continue

Socialist stands in Aslef leadership elections

College teachers strike in Eastbourne

Unison needs a fighting leadership: Leeds City Council

Whipps Cross Hospital

Unison elections
---
Socialist Party Marxist analysis

Economic crisis turning into political action
---
Socialist Party election campaign

No2EU - Yes to Democracy

Dave Nellist on the Politics Show
---
Socialist Party campaigns

Poor hit by price rises

No to privatised polyclinics

Gordon Brown meets the bankers

Sack the bankers not the workers!

Fast News
---
International socialist news and analysis

Now that the profits are drying up in the Indian software industry

Sweden: Socialist councillor viciously assaulted by Nazis
---
Home | The Socialist 31 March 2009 | Join the Socialist Party
---