Link to this page: https://www.socialistparty.org.uk/issue/576/7194
From The Socialist newspaper, 22 April 2009
Stead McAlpin: Protesting in London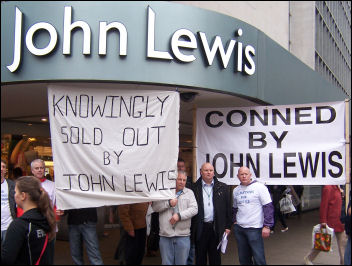 Sacked Stead McAlpine workers from Carlisle protest in London, photo Neil Cafferky
Last week The Socialist reported on the sacking of Stead McAlpin workers in Carlisle. Stead McAlpin's parent company Apex recently bought the firm from John Lewis Partnership, who had assured workers that all benefits, including enhanced redundancy payments, would be honoured.
Neil Cafferky
Instead, over half the workforce was brutally sacked with less than 20 minutes notice and with only the minimum statutory redundancy not the redundancy terms promised by John Lewis. For some workers with over 30 years' service this has meant payments of £8,000 rather than £40,000.
On 17 April a busload of Stead McAlpin workers arrived at John Lewis' London headquarters. They picketed for four hours to highlight the dishonest role John Lewis has played.
John Lewis management agreed to meet a delegation of the workers. Unfortunately they had little to offer beyond sympathy for the workers' plight. However many people passing by and particularly staff from the head office were shocked by John Lewis' behaviour.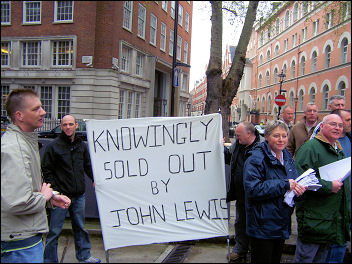 Sacked Stead McAlpine workers from Carlisle protest in London, photo Neil Cafferky
As Chris Oates, one of the organisers of the protest put it: "I believe these people, Apex, are doing the job John Lewis couldn't, wouldn't do.
They (John Lewis) are telling the media that everyone is a co-owner of the business. But nobody that works for John Lewis is a co-owner of the business. It's the same as every other capitalistic (firm). It's exactly the same, them at the top, they've got the money and they do what they want.
Nobody in John Lewis is a co-owner or a partner, there's no such thing. What they've done to us just proves that. We've come to London to tell people who they are working for and don't believe what they're saying."
After fruitless discussions with John Lewis management, the workers folded up their banners and made their way to Oxford Street to picket the main John Lewis store. This route took them close to parliament.
Police pounce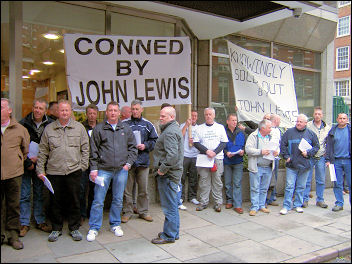 Sacked Stead McAlpine workers from Carlisle protest in London, photo Neil Cafferky
Then a group of 15 police officers jumped out of their vans and accosted the workers in a very aggressive fashion, accusing them of having an illegal demonstration!
This was met with much bemusement by all present, who pointed out they were simply trying to make their way towards Oxford Street.
The police insisted that the group take the back streets away from parliament before they would let them leave.
The picket outside Oxford Street got huge support from the general public, with the exception of the store management who stood about looking glum as the flood of customers going into the store slowed to a trickle. One manager asked the workers to leave while of course expressing his sympathy.
John Lewis seems to have an abundance of good wishes for the workers but sympathy will not pay the mortgage or put food on the table. Only the money John Lewis has cheated these men and women out of will do that!
The workers now plan further demonstrations in Carlisle and a picket of John Lewis stores in Newcastle, with the assistance of the Socialist Party.
Please send messages of support to:
pepperami@mcdermott08.plus.com
Why not click here to join the Socialist Party, or click here to donate to the Socialist Party.
---
In The Socialist 22 April 2009:

Fight the cuts!
---
Environment and socialism

New Labour's environmental ploy: How green are electric cars?
---
Visteon

Visteon workers stand up to bosses

Taking the Visteon struggle forward

Basildon workers picket Ford showrooms

Solidarity with the Visteon Workers

Enfield workers say: "Do a Visteon!"

Disbelief at Visteon bosses' offer
---
Socialist Party election campaign

European elections: a workers' alternative to New Labour takes shape

No2EU - yes to democracy
---
Socialist Party youth and students

Youth Fight for Jobs
---
Socialist Party campaigns

G20 Summit death: Independent inquiry into police violence, now!

Tesco: Every billion helps

CIA torture
---
International socialist news and analysis

Tamil action to stop the war continues

Ireland: Budget savages workers
---
Marxist analysis: history

Betrayals that led to Thatcher's victory

Hillsborough - 20 years on
---
Socialist Party workplace news

Stead McAlpin: Protesting in London

Unison: a fighting and democratic union needed

Postal workers' solidarity action

Wales FE funding: Victory, but keep the champagne on ice

National Shop Stewards Network conference

Saturday 27 June
---
Home | The Socialist 22 April 2009 | Join the Socialist Party
---