Link to this page: https://www.socialistparty.org.uk/issue/577/7211
From The Socialist newspaper, 29 April 2009
Fight for jobs!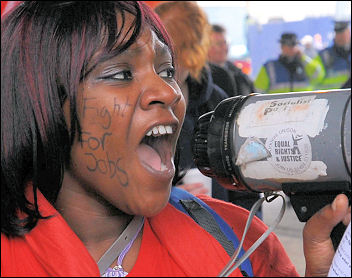 Youth Fight For Jobs demonstration, photo Paul Mattsson
While bankers receive billions of pounds in bailouts, despite being responsible for triggering the economic collapse, hard-working people are faced with a diet of cuts in public services, tax hikes and lay-offs.
Paul Callanan, Greenwich Socialist Students
And young workers will be among the hardest hit. With jobs disappearing left, right and centre, young people - already often in low-paid insecure jobs - will be chucked on the scrapheap. The cuts budget shows that New Labour has no real solutions. Young people must fight for their rights and for their future.
This is why it is so important that people get to the launch conference of Youth Fight for Jobs (YFJ) on Saturday 9 May to discuss the way forward for the campaign. It will be an opportunity to hear from young people from all over the country about how we're going to fight back.
Activists from France and Greece, where young people have participated in mass struggles against right-wing governments' attacks on working-class living standards will speak too.
Practical examples of taking on the bosses will be provided by Visteon workers, who occupied their factories after being sacked with no notice and construction workers from Lindsey oil refinery.
Youth Fight For jobs demonstration, photo Paul Mattsson
Christopher, 20, from Greenwich who is unemployed and went on the successful YFJ march for jobs on 2 April, said: "I went on the march because it's important that young people act now. It's us that's paying for the bankers' mistakes and we need to stand up now and make our voices heard. We can't let the government and the bosses get away with this".
Young people in Greenwich have decided to stand up and say 'enough is enough'. A week of action has been organised by the Youth Fight for Jobs campaign next week in the lead up to the 9 May launch conference. We will be organising a protest stall on Saturday 2 May in Woolwich, with performances from a group of talented young musicians and speakers from the campaign and local trade unions. We are also trying to organise a fundraising gig.
We have seen decades of attacks by Tory and Labour governments on the living standards of working-class people. The launch of the Youth Fight for Jobs campaign gives young people an opportunity to link up and organise to fight back.
---
>
Youth Fight for Jobs
Launch conference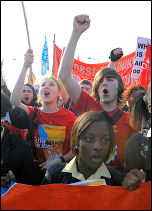 Youth Fight For Jobs demonstration, photo Paul Mattsson
9 May 10am - 4.30pm
Cruciform Lecture Theatre 1, UCL, London WC1E 6BT
£3 / £5 / £10
Gig afterwards
10-11am registration
Opening rally
Bob Crow, RMT general secretary; Tracy Edwards, PCS young members organiser (pc); Greek activist involved in the protest movement, Youth Fight for Jobs activist
Chaired by Matt Dobson, Socialist Students organiser
Film and speakers from the floor
12.30-1.30pm - lunch
1:30- 3pm sessions:
Workers in struggle
Ste Jones from the Lindsey Oil Refinery strike committee and Frank Jepson, convenor of Basildon Visteon where workers are fighting back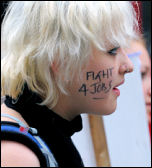 Youth Fight For jobs demonstration, photo Paul Mattsson
Build Youth Fight for Jobs in your area
Ben Robinson, acting YFJ secretary
Your rights at work - put your queries and problems to the panel
Hugo Pierre, Camden Unison Schools convenor (pc), Tracy Edwards, PCS young members organiser (pc)
Defend the right to protest
Neil Cafferky, on behalf of May Day Detainees
What causes unemployment? Will the politicians solve this crisis?
Question Time-style discussion with invited speakers including Sam Tarry, Young Labour chair, representatives from the Green Party, No2EU - Yes to Democracy and more
Struggles of European workers and youth
Greek and French activists
Defend the welfare state and the right to benefits
Nick Parker, PCS young members' network Lincolnshire convenor (pc)
3-4pm motions and elections
(national organiser, chair, trade union organiser, student organiser, committee and others)
Chaired by Ben Robinson
Closing rally
Sean Figg, YFJ national organiser; Ste Jones, French activist,
Chaired by Jacqui Berry, Medway trades council president (pc)
---
>
Youth Fight for Jobs is calling a fortnight of action from 27 June to 10 July.
See www.youthfightforjobs.com for more details and campaigning material.
Why not click here to join the Socialist Party, or click here to donate to the Socialist Party.
---
In The Socialist 29 April 2009:

Fight for jobs!

Youth Fight for Jobs launch conference

Olympics: Defend jobs, pay and conditions
---
Socialist Party election campaign

European elections: Build support for a workers' alternative to Labour
---
Stop Press

STOP PRESS: Key union activist sacked
---
Socialist Party workplace news

Sacked workers protest in Newcastle
---
Socialist Party news and analysis

Budget 2009 - debts passed to all of us

Does the 'botch it' budget benefit young people?

It's tough at the top!

Jack Jones obituary
---
International socialist news and analysis

Workers' internationalism: A history of the first four socialist international organisations

Sri Lanka war: Rajapakse regime ignores Tamils' plight in renewed army offensive
---
NUT feature

National Union of Teachers conference: Fighting "teaching-on-the-cheap"

Hands off Lewisham Bridge school!

Being a new teacher - a shock to the system
---
Home | The Socialist 29 April 2009 | Join the Socialist Party
---