Link to this page: https://www.socialistparty.org.uk/issue/577/7215
From The Socialist newspaper, 29 April 2009
European elections: Build support for a workers' alternative to Labour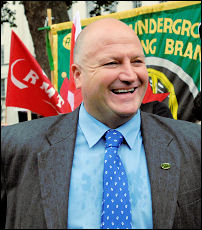 Bob Crow, RMT general secretary, photo Paul Mattsson
Bob Crow, the author of the article below, is the general secretary of the rail, maritime and transport workers' union and the convenor of the new electoral alliance, No2EU - Yes to democracy.
This alliance, involving the RMT, the Socialist Party and other organisations, was formed to stand in the European elections on 4 June to oppose attacks on workers' conditions and public services, many of which are driven by EU legislation.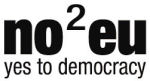 No2EU logo
This development provides working-class people with the opportunity to register their opposition to New Labour, Tory and Liberal Democrats' 'thrift' and 'austerity' plans which mean a diet of privatisation and cuts.
For the first time since the Labour Party became a capitalist party, there will be a trade union-led electoral alternative on a national scale.
---
>
As convenor of No2EU - Yes to Democracy, the new progressive EU-critical electoral alliance to stand in the European elections, I recently visited the Visteon factory in Basildon currently being blockaded by the sacked workforce.
Bob Crow, General Secretary, Rail, Maritime and Transport Workers Union (RMT)
These workers were given six minutes notice before being sacked and being told that their work was being transferred to the Czech Republic. The car giant Ford, which contracted out its spin-off Visteon, and the government have both washed their hands of the matter.
Yet the disgraceful treatment of the workforce is becoming more and more familiar. Irish Ferries dumped Irish seafarers in favour of poorly-paid sweated east European labour. Gate Gourmet discarded British Asian women workers in favour of unorganised Polish labour on inferior wages and conditions and there are many other examples.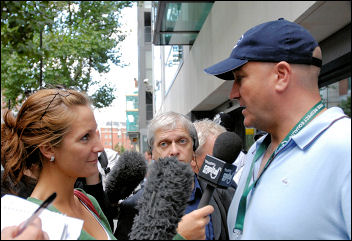 Bob Crow, RMT general secretary, photo Paul Mattsson
Bosses and business-backed politicians are using European Union rules which allow big business to do what it likes when it likes inside the EU regardless of the consequences.
EU rules demanding the 'free movement of capital, goods, services and labour' within the EU have encouraged the widespread 'race to the bottom', where vulnerable exploited workers from across the EU are being used to drive down wages in member states.
Successive EU directives and European Court of Justice decisions have similarly been used to attack trade union collective bargaining, the right to strike and workers' pay and conditions.
As a result working people are feeling increasingly betrayed by a political elite that seems more interested in implementing neo-liberal EU rules rather than representing those that elected them.
This crisis of working class representation, along with the growing economic crisis, has led to a deep disillusionment, cynicism and general mistrust of politicians.
Alternative available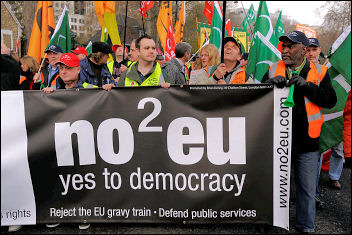 NO2EU on the 'Put People First' demo, photo Paul Mattsson
Well, No2EU - Yes to Democracy is different. We are standing in every region across Britain in order to give voters the chance to tell this government and big business exactly what they think of their anti-democratic plans.
Many members of my union RMT have suffered as the result of EU diktats such as EU directive 91/440 which led to the privatisation of our rail network.
The EU drive to push market mechanisms into our public services has also now appeared with the part-privatisation of postal services as demanded by EU directive 97/67.
The EU mania for imposing increasingly discredited neo-liberal economics on over 500 million Europeans is also enshrined in the Lisbon Treaty, the renamed EU constitution rejected by French and Dutch voters in 2005.
The treaty forces governments to hand public services over to private corporations - that means handing fat cats control of railways, schools, postal services, energy and even social services across Europe.
Under Article III-147 of the EU constitution: "A European framework law shall establish measures to achieve the liberalisation of a specific service". That provision remains in the Lisbon Treaty.
The current economic crisis was created by this right wing economic dogma yet, under the Lisbon Treaty, these policies become constitutional goals.
That is one of the reasons why Irish voters rejected the Lisbon Treaty in June last year because they too did not want an EU constitution that took away their hard-won democracy and effectively turns the EU into an undemocratic 'superstate'.
Yet the resounding "No" by Irish voters was ignored by politicians across Europe who are clearly more wedded to EU institutions than their own electorates.
That is why Gordon Brown's government reneged on Labour's 2005 manifesto promise to hold a referendum and instead forced the treaty through parliament with Liberal Democrat and Tory help.
The Irish electorate has now been told that they must vote for a second time on the Lisbon Treaty by October 2009 having voted to reject it in 2008. Why? Because EU and Irish politicians have decided that voters in Ireland must be overruled.
To counter this assault on democracy, No2EU - Yes to Democracy is fielding candidates on 4 June to give a voice to voters who feel betrayed by the main parties.
This crisis of democracy and the very serious economic situation is leading to a rise in support for far-right, fascist parties such as the British National Party.
Gravy train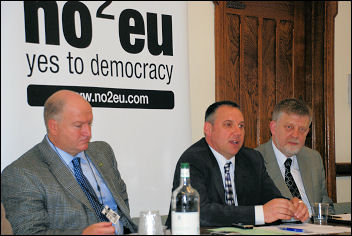 No2EU - Yes to Democracy press launch, photo Suzanne Beishon
No2EU - Yes to Democracy is an electoral platform and not a party and our candidates will only nominally hold the title MEP, and will not board the notorious EU gravy train.
This is because the European parliament is, in fact, not a parliament but a very expensive talking shop with no law-making powers - those powers lie with the unelected European Commission.
Also a recent report showed that MEPs can make over one million pounds from a single five-year term by claiming various allowances and even for assistants for whom no record exists. And the pay of British MEPs will rise even more after June's election.
While in the real world banks go under and hundreds of thousands of workers are losing their jobs, EU elites continue to enrich themselves at the taxpayers' expense.
Vote No2EU
Lend us your vote on 4 June and we will continue to build the campaign against the EU's privatisation drive and the widespread corruption that goes with it.
It is clear that millions of people would reject the Lisbon Treaty if they were given the chance to and demand the repatriation of democratic powers to the member states. Vote No2EU -Yes to Democracy on 4 June.
---
>
No2EU - Yes to Democracy platform
● Reject the Lisbon Treaty
● No to EU directives that privatise our public services
● Defend and develop manufacturing, agriculture and fishing industries
● Repeal anti-trade union ECJ rulings and EU rules exploiting workers
● No to racism and fascism. Yes to international solidarity of working people
● No to EU militarisation or an EU army
● Repatriate democratic powers to EU member states
● Replace unequal EU trade deals with fair trade that benefits developing nations
● Scrap EU rules designed to stop member states from implementing independent economic policies
● Keep Britain out of the euro zone
---
>
No2EU - Yes to Democracy
Campaign launched in Yorkshire
Last Sunday the Yorkshire No2EU - Yes to Democracy campaign was launched in Leeds. The meeting, called at short notice, attracted around sixty supporters from several organisations including the Socialist Party, the Alliance for Green Socialism and the Communist Party of Britain. Several towns, cities and areas of Yorkshire were represented.
On the platform were four of the six Euro candidates who will be contesting the elections on behalf of the No2EU campaign in the Yorkshire and Humber Region: Keith Gibson, a Socialist Party member, who was recently one of the leaders of the Lindsey Oil Refinery dispute; Celia Foot from the Alliance for Green Socialism; Save Huddersfield NHS councillor Jackie Grunsell, also a Socialist Party member, and Pete March, a Yorkshire regional representative for the RMT rail workers' union.
Keith Gibson spoke first and voiced the importance of the initiative taken by the RMT in setting up the No2EU campaign. All the main political parties in Britain represent the interests of big business, while at the same time supporting policies which undermine the wages and conditions of working people. Keith, Celia Foot and Pete Marsh all identified the privatisation agenda of New Labour and how these policies were manipulated through the European Union as backdoor legislation. Pete in particular highlighted the privatisation process of the railways and how the private investors are benefitting from government subsidies, while at the same time paying out profits to the shareholders.
From the floor Vicky Perrin, a Socialist Party member in West Yorkshire confirmed the importance of the different political groups coming together in this electoral front as a means of offering a clear trade union-led, working-class alternative. This led onto a discussion of why the campaign is important in combating the BNP. It is both a mistake and an illusion to think that you could say to working-class voters, sickened by the antics of New Labour, "vote for anyone but not the BNP". Such woolly statements would not shift a protest vote away from the BNP. What is needed is a positive working-class alternative which the No2EU campaign provides.
The meeting ended on a high note as the different areas got down to discussing in smaller groups and began working on some of the detailed planning for the weeks ahead.
Ed Doveton
Why not click here to join the Socialist Party, or click here to donate to the Socialist Party.
---
In The Socialist 29 April 2009:

Fight for jobs!

Youth Fight for Jobs launch conference

Olympics: Defend jobs, pay and conditions
---
Socialist Party election campaign

European elections: Build support for a workers' alternative to Labour
---
Stop Press

STOP PRESS: Key union activist sacked
---
Socialist Party workplace news

Sacked workers protest in Newcastle
---
Socialist Party news and analysis

Budget 2009 - debts passed to all of us

Does the 'botch it' budget benefit young people?

It's tough at the top!

Jack Jones obituary
---
International socialist news and analysis

Workers' internationalism: A history of the first four socialist international organisations

Sri Lanka war: Rajapakse regime ignores Tamils' plight in renewed army offensive
---
NUT feature

National Union of Teachers conference: Fighting "teaching-on-the-cheap"

Hands off Lewisham Bridge school!

Being a new teacher - a shock to the system
---
Home | The Socialist 29 April 2009 | Join the Socialist Party
---