Link to this page: https://www.socialistparty.org.uk/issue/577/7216
From The Socialist newspaper, 29 April 2009
STOP PRESS: Key union activist sacked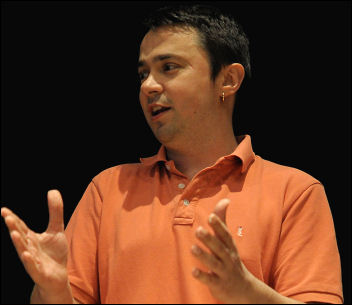 Rob Williams addresses Socialist Party 'Support Visteon Workers' meeting in London, photo Paul Mattsson
Socialist Party member Rob Williams, the Unite convenor of the Linamar car parts factory in Swansea, was called into the directors' office of the plant on Tuesday 28 April and told that he was being sacked for "irretrievable breakdown of trust".
---
>
Updates at http://www.socialistparty.org.uk/articles/7210
---
>
This blatant victimisation of one of the leading left-wing shop steward activists in the car industry was met by an immediate production line walk-off by the day shift. They surrounded Rob's union office after management called in police to forcibly remove Rob from the building.
Rob has been very active in the campaign of the sacked Visteon car parts workers and has recently visited all three of their plants. His sacking is likely to be linked to his role in this struggle. The Visteon Unite convenors are demanding that Rob be reinstated and they, alongside many others, are calling on Unite joint general secretary Tony Woodley to also back the immediate reinstatement of Rob.
Linamar recently announced 140 redundancies.
● Messages of support should be rushed to Rob Williams:
robbo@redwills.freeserve.co.uk and to Socialist Party Wales: socialistpartywales@btinternet.com
● Send messages urging Unite to defend Rob and other lay officials, to the Wales secretary of Unite:
Andy.Richards@unitetheunion.com
● Phone through your protest to Brian Wade, head of Swansea Linamar on 01792 656339 and to the personnel manager on 01792 656238.
Why not click here to join the Socialist Party, or click here to donate to the Socialist Party.
---
In The Socialist 29 April 2009:

Fight for jobs!

Youth Fight for Jobs launch conference

Olympics: Defend jobs, pay and conditions
---
Socialist Party election campaign

European elections: Build support for a workers' alternative to Labour
---
Stop Press

STOP PRESS: Key union activist sacked
---
Socialist Party workplace news

Sacked workers protest in Newcastle
---
Socialist Party news and analysis

Budget 2009 - debts passed to all of us

Does the 'botch it' budget benefit young people?

It's tough at the top!

Jack Jones obituary
---
International socialist news and analysis

Workers' internationalism: A history of the first four socialist international organisations

Sri Lanka war: Rajapakse regime ignores Tamils' plight in renewed army offensive
---
NUT feature

National Union of Teachers conference: Fighting "teaching-on-the-cheap"

Hands off Lewisham Bridge school!

Being a new teacher - a shock to the system
---
Home | The Socialist 29 April 2009 | Join the Socialist Party
---