Link to this page: https://www.socialistparty.org.uk/issue/578/7242
From The Socialist newspaper, 6 May 2009
Save Lewisham Bridge Defend education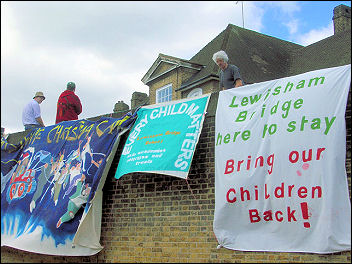 Save Lewisham Bridge primary school protest, photo Lewisham Socialist Party
LEWISHAM BRIDGE primary school is under threat of demolition. It is the latest in a series of school reorganisations that Lewisham's Labour council has been trying to push through - despite the local community's opposition.
Martin Powell-Davies
But we've had enough of being ignored. Parents and campaigners started a rooftop protest at the school at the beginning of term, and have been there ever since. Now, with teachers' support, a protest march is being organised through Lewisham to keep up the pressure on councillors.
Parents are angry. The council has already started bussing children to a temporary school site, even though their proposals haven't yet got planning permission. The school is under threat because the council wants to replace it with a school for children from the age of 3 up to 16.
There is little convincing research to show that such an 'all-age' school would work, especially when squeezed into a site presently occupied by a primary school with just half the proposed pupil numbers. It would leave play areas and room sizes below government recommendations.
The council say their 'all-age' plan is needed to create more secondary places, but the council's own figures predict an imminent shortage of hundreds of primary school places in the borough. Planned housing developments around Lewisham Bridge will make matters even worse.
Why won't the council admit they've got it wrong? Perhaps because the reorganisation is also part of its wider plans to replace local authority comprehensive schooling with unaccountable trusts and academies.
The planned 'all-age' school would be a 'foundation' school that can set its own admissions policy. Staff would be employed by the governors, not the local authority. It would probably become part of a 'Trust' federation sponsored by the Leathersellers Company that backs the Prendergast federation of schools. The council have already handed two schools over but parents and staff are determined to defend education.
Make sure the council listens. Assemble opposite the school in Elmira Street SE13 at midday on Saturday 9 May. Rally at the Clock Tower, Lewisham High Street, from 12.30pm.
---
>
Dave Heeps, a parent of a Year 6 pupil, spoke from the rooftop occupation:
"We've been telling the council for years that their plans don't add up. Council officers tried to convince us that they could cut primary places because couples moving into the new flats wouldn't have children! We asked them whether they were going to hand out condoms with the rent books!
"Staff are doing an amazing job to try and support children but my daughter is already exhausted getting up early for the buses and coming home late. Meanwhile, a perfectly good primary school is standing empty.
"As the days go by, more parents, like me, have been joining the occupation. We've had a phenomenal response. Passing cars are always tooting their horns and local people come by to chat."
Why not click here to join the Socialist Party, or click here to donate to the Socialist Party.
---
In The Socialist 6 May 2009:

Visteon workers show: Action gets results

Visteon UK struggle: the story of what happened

Visteon: Editorial comment
---
Defend victimised trade unionist

Rob Williams sacked by brutal bosses

Editorial: Decisive action needed against victimisations

Defend victimised trade unionist

Defending a shop steward, in spite of the anti-union laws

National Shop Stewards Network national conference
---
No 2 EU - Yes to Democracy

How can the BNP really be defeated?

Support for No2EU at Usdaw conference
---
Socialist Party news and analysis

Swine flu: The real issues behind the headlines
---
May Day

Workers look for alternative to bankrupt capitalism

Widespread protests in Pakistan

Thousands demonstrate in Hong Kong

Bigger May Day demos in Sweden this year

CWI Germany calls for a one-day strike
---
International socialist news and analysis

ANC returned to power in election landslide
---
Socialist Party campaigns

Save Lewisham Bridge Defend education

Youth fight for jobs: Launch conference

Youth fight for jobs website

Fight to save higher education

Save linguistics at Sussex!

Keep fighting for further education funding
---
Home | The Socialist 6 May 2009 | Join the Socialist Party
---