Link to this page: https://www.socialistparty.org.uk/articles/7259
Posted on 11 May 2009 at 0:00 GMT
Press release from North West NO2EU:
"We've got the BNP on the back foot"
- former Mayor and north-west union leader
Speaking after clashes in Carlisle on Saturday between union-based left-wing Euro-elections party No to EU - Yes to Democracy and the far-right racist British National Party, Carlisle-based No2EU - Yes to Democracy candidate Craig Johnston said:
"We've got the BNP on the back foot and they have come out screaming. Their racism and the pro-millionaire policies of the main parties face a real challenge from No2EU - Yes to Democracy.
"BNP members hurling abuse at me shows we've got them rattled. We'll be stepping up our campaign to keep the BNP out and win a seat on behalf of the majority sick of all the main parties."
No2EU - Yes to Democracy is standing a full slate of candidates in every constituency in England, Scotland and Wales. Mr Johnston, former Carlisle Mayor and member of the RMT union national executive for Manchester & the North-West, added:
"I have lived and worked in and loved the city of Carlisle for 45 years. No one is going to intimidate and harass me off the streets of my home town. I urge all those opposed to the BNP to join us next Friday when we rally for Hope not Hate, and continue our campaign saying No2EU - Yes to Democracy."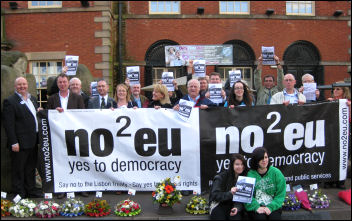 North-West NO2EU campaign
---
>
Rally
Hope Not Hate - smash the BNP and derail the EU gravy train
Friday 15th May, 11.30am, Carlisle station
12 noon Carlisle Cross
Carlisle City centre
---
>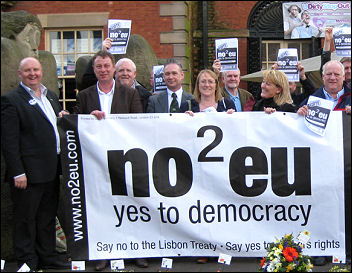 North-west NO2EU - Yes to Democracy: Craig Johnston first left in picture
No2EU - Yes to Democracy is standing in every constituency in the country, in London headed by rail-workers' union leader Bob Crow. Campaign website www.no2eu.com
---
>
No2EU - Yes to Democracy policy programme stands for:
Reject the Lisbon Treaty!
No to EU directives that privatise our public services;
Defend and develop manufacturing, agriculture and fishing industries in Britain;
Repeal anti-trade union ECJ rulings and EU rules promoting the race to the bottom;
No to racism and fascism, Yes to international solidarity of working people;
No to EU militarization;
Repatriate democratic powers to EU member states;
Replace unequal EU trade deals with fair trade that benefits developing nations;
Scrap EU rules designed to stop member states from implementing independent economic policies;
Keep Britain out of the eurozone.

---

>

The North-west candidates are as follows:

Roger Bannister - Unison NEC member; Les Skarratts - FBU brigade secretary (Merseyside); Craig Johnston - RMT executive; Alec MacFadden - President of Merseyside trades council; Steve Radford - Liberal Party councillor; Lynn Worthington - Community and healthcare campaigner; John Metcalfe - Former deputy Labour leader of Carlisle council; Harry Smith - One of the 47 surcharged Liverpool Labour councillors

---

>

North-West No2EU - Yes to Democracy

Why not click here to join the Socialist Party, or click here to donate to the Socialist Party.





---