Link to this page: https://www.socialistparty.org.uk/issue/579/7271
From The Socialist newspaper, 13 May 2009
Defending jobs and conditions at the Olympics site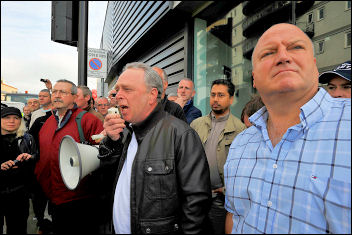 Bob Crow and Keith Gibson address the construction workers day of action at the Olympics site, photo Paul Mattsson
Somewhere between 400-500 construction workers arrived in London for a day of action on 6 May. They gathered outside one of the main gates of the Olympic site to protest at the bosses' attempts to undermine trade union-negotiated pay and conditions.
Workers from the Lindsey oil refinery (LOR) site came in six buses to the protest, along with workers from other sites in the area.
There were delegations from other sites including the Isle of Grain, Isle of Wight, Manchester, Liverpool, Sunderland and Fiddlers Ferry.
Construction workers day of action at the Olympics site, photo Paul Mattsson
There was a mood of frustration among many workers that the dispute had not really spread much beyond its base in LOR. Most of this was directed at the trade union leadership. Jerry Hicks and Socialist Party member Keith Gibson got particularly loud rounds of applause when they condemned the lack of action by the leadership.
At the Parliament Square rally RMT leader Bob Crow put the case for the No2EU election campaign. The Socialist Party leaflets were well received.
Neil Cafferky
Why not click here to join the Socialist Party, or click here to donate to the Socialist Party.
---
In The Socialist 13 May 2009:

Fight all job cuts
---
Thieving MPs

MPs live it up at our expense !
---
Socialist Party editorial

Sweep away the thieves and their system
---
Socialist Party news and analysis

Renationalise the railways

Sri Lanka's killing zone

Corus jobs slaughter - fight the closure

News in brief
---
Linamar and Visteon

Linamar sack Swansea trade union leader

A victory at Linamar would be a victory for all workers

Visteon workers discuss socialism
---
Socialist Party election campaign

No2EU - Yes to Democracy campaign news

No to the EU gravy train
---
Youth fight for jobs

Youth Fight for Jobs Launch conference
---
International socialist news and analysis

Gaza: the nightmare continues

Imperialism sucked deeper into Afghan quagmire
---
Socialist Party workplace news

Defending jobs and conditions at the Olympics site

Defending jobs and conditions at Fiddlers Ferry

Wales TUC: For trade union democracy and for trade union rights!

Socialist methods tested

Workplace news in brief

PCS conference: A fighting union that defends its members

NSSN - fight the bosses' offensive

NSSN Conference: Saturday 27 June
---
Marxist analysis: history

Defeating the poll tax
---
Education

Save our schools Weston Favell, Northampton

Lewisham Bridge primary school

Threat of academies
---
Home | The Socialist 13 May 2009 | Join the Socialist Party
---