Link to this page: https://www.socialistparty.org.uk/articles/7300
Posted on 20 May 2009 at 0:00 GMT
Workers strike at South Hook construction site in Wales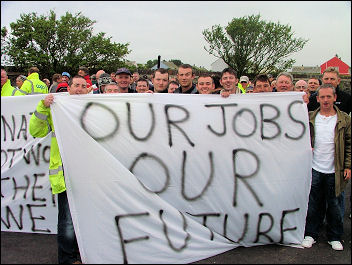 Workers strike at South Hook construction site in Milford Haven, Wales, photo Dave Reid
Over 200 workers have gone on strike at the South Hook LNG (Liquified Natural Gas) terminal construction site near Milford Haven in South Wales.
Dave Reid, Cardiff Socialist Party
They have defied the anti-union laws by walking out on Tuesday 19 May in protest at the decision of Hertel UK to break an agreement with construction unions to offer jobs on the site to unionised local workers first before looking outside the UK for additional workers.
Hertel have refused to employ any more unionised UK-based laggers, members of the GMB, but instead have brought in workers from Poland.
Construction workers at the nearby Dragon LNG site have walked off the job in solidarity and joined the picket line at South Hook along with another 16 sites across Wales and England.
500 construction workers gathered at Aberthaw power station in solidarity with South Hook and over 700 at Lindsey Oil Refinery and Conoco in Lincolnshire.
Workers at the Murco refinery in Milford Haven are due to join them. Workers are very angry at this attack on union agreements on the site. Hertel claims that they could not find skilled laggers locally have been greeted with disbelief especially as Hertel management told shop stewards in a meeting last week that none of 40 new lagging jobs would be offered to UK workers in a clear breach of the agreement that had existed on the site.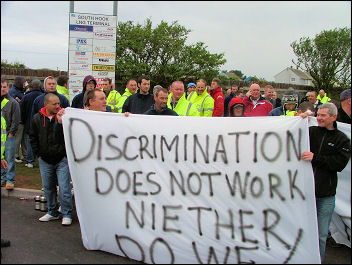 Workers strike at South Hook construction site in Wales, photo Dave Reid
When the management broke the agreement by bussing in workers from Poland the 40 existing laggers walked off the job together with the rest of the construction workforce.
Hertel claims it is not paying the Polish workers below the union rate, but pickets believe that they are not receiving the same pay and conditions as union workers.
In any case, by breaking the supplementary agreement with the union, Hertel can use the lack of an agreement to drive a coach and horses through agreed pay and conditions in the future.
Workers at South Hook are not opposed to laggers from Poland getting work on the site as long as local laggers are given the opportunity of the work first under the union agreement and then foreign workers can be employed on the same pay and conditions.
see also Construction strikes spread at http://www.socialistparty.org.uk/latest/7299
Why not click here to join the Socialist Party, or click here to donate to the Socialist Party.
---