Link to this page: https://www.socialistparty.org.uk/issue/581/7348
From The Socialist newspaper, 27 May 2009
Anger at council school closures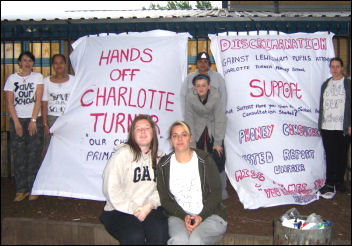 Parents temporarily occupied Charlotte Turner school in Greenwich, photo C Newby
PARENTS FIGHTING to save Charlotte Turner School reacted angrily to Greenwich council's decision to close their school. The council's cabinet committee on 19 May ignored massive protests and even the council's consultation exercise which returned a huge majority for keeping the school open, and agreed to close the school regardless.
Onay Kasab, Greenwich Unison secretary (pc)
The councillors did not even bother taking a vote but instead nodded the proposal through. This caused massive anger with parents asking how councillors slept at night having made such decisions. Clearly, an allowance scheme that pays more to councillors than most local government workers receive in wages helps them sleep.
Disgracefully, the ward councillor claimed he had spoken to many parents and every one of them wanted the school to close. This is far from the truth, as was proved by the packed consultation meetings.
Unable to deal with the parents' anger, the council adjourned the meeting and left the room. They then called the police to clear the meeting room. Parents made clear that such councillors would not be in place for long come the elections.
That is why the No2EU-Yes to democracy campaign is so important. In the Euro elections we are standing against cuts to services, school closures and privatisation. The campaign gives working people a positive alternative to vote for. Parents from Charlotte Turner have agreed to come and speak at the local No2EU public meeting in Greenwich on 28 May.
Why not click here to join the Socialist Party, or click here to donate to the Socialist Party.
---
In The Socialist 27 May 2009:

Protest at MPs' sleaze: Vote No2EU - Yes to Democracy

No2EU - yes to Democracy: Who's standing and why you should vote for them

Fight for real democracy!

Hear No2EU - Yes to Democracy speakers

Fiddling Tory MP Mackay resigns

UKIP - yet another establishment party

BNP fail to win Salford election
---
Youth fight for jobs

Youth Fight for Jobs: Fortnight of action 27 June to 10 July

School students organised strikes
---
Construction workers feature

Construction workers: battle won but war not over

Strike success at Lindsey Oil Refinery and Conoco

An action plan for all construction sites

Diary of a Lindsey Oil Refinery shop steward
---
International socialist news and analysis

Southampton protest: Stop the slaughter of Tamils

Latvia: 'A capitalist inferno'

Kashmir health workers' victory

Nanjing college students in clashes with police
---
PCS conference and workplace news

PCS conference: Preparing for future battles

Delegates' anger at Public and Commercial Services union conference

Young members' voices heard at PCS conference

Wales TUC conference - no good news for New Labour

National Shop Stewards Network conference
---
Socialist Party campaigning news

Anger at council school closures

Lewisham Bridge primary school

Why we must Stop the Strip!

"Dump cuts not elderly"
---
Home | The Socialist 27 May 2009 | Join the Socialist Party
---