Reinstate Rob Williams: Action to defend union rights
Update 10/6/09 – Rob Williams has been unconditionally reinstated as Convener from tomorrow. More information and analysis will be posted to this website later.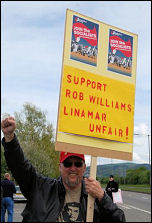 Limamar workers support sacked covneor Rob Williams , photo Sarah Mayo
Shopfloor workers at the Linamar car parts plant in Swansea have voted for an all-out strike in support of their sacked convenor Rob Williams, a long-standing Socialist Party member. 139 voted 'yes' and only 19 voted 'no', on an 88% turnout.
The Linamar workers are clearly saying that they, and not the management, will decide who they want as their convenor.
---
>
See also 'Rob Williams dispute at Linamar: management given notice of strike'
---
>
The vote, by secret ballot under the onerous anti-union laws, was taken in the face of an unprecedented recession in the car industry. Its success shows that the workers know what is at stake.
It is not just Rob Williams' job but their very future. On the day before a meeting with Unite trade union leaders, where Rob Williams and other stewards will be pushing for the strike to start as soon as possible, Rob spoke to The Socialist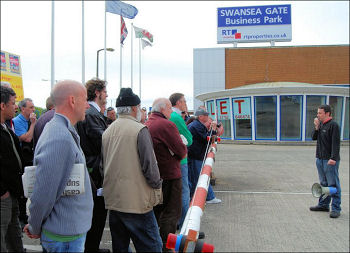 Rob Williams addresses Limamar workers at the rally called to support him, photo Sarah Mayo
"The ballot result shows incredible support in the plant. An 88% turnout and an 88% majority for strike action. It shows that the shop floor is absolutely determined to win this struggle.
They understand that the company are trying to break the trade union organisation in order to smash terms and conditions. That's why the shop floor is pushing for the action to start immediately.
There's a meeting on 3 June in London of myself and two Linamar senior stewards with Unite leader Tony Woodley and other national and regional Unite trade union officials. We are taking a message to that meeting from the shop floor that we want notice for the strike to be given immediately and for action to start. Any delay will only help the company get a contingency plan in place.
We think the company are shocked by the response of the shop floor. They did not expect that strike action would get that support. Now we have to build on that and make sure that the members can take the action.
The support we have had from outside is fantastic but we need to sustain the dispute. To win, we need to look wider, because other companies are looking at us.
Limamar workers support sacked covneor Rob Williams , photo Sarah Mayo
For example, in the TRW plant in Neath, it seems that in the last week or so the company has informed the union that it would like to change the union recognition agreement.
This would mean getting rid of the full-time convenor and the joint negotiating committee, looking to establish a works council. But the problem with a works council is that there would not just be directly elected people from the trade union on the negotiating committee.
We have the fantastic vote for action. We have fantastic support from outside with donations and messages of support but now the union needs to call the action as soon as possible.
The union needs to fully support, financially and otherwise, the workers in the plant. Effectively 200 people are fighting for the trade union here and they should not fight alone."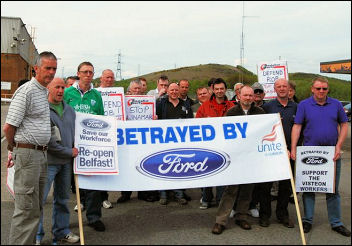 Limamar workers support sacked covneor Rob Williams , photo Sarah Mayo
---
>
LINAMAR SHOP STEWARDS COMMITTEE & SWANSEA TRADE UNION COUNCIL
MARCH AND RALLY
TO
SUPPORT THE LINAMAR STRIKERS
REINSTATE ROB WILLIAMS
DEFEND TRADE UNION RIGHTS
SATURDAY, JUNE 13th.
ASSEMBLE 12.00
GUILDHALL GREEN
GUILDHALL
SWANSEA
(MARCH STARTS 12/30 – RALLY 1/00, CASTLE SQUARE)
m07816134690
BRING YOUR BANNERS!!!!!!
---
>
How you can help
Rob Williams is the vice-chair of the National Shop Stewards Network. He will be speaking at the NSSN conference in London on 27 June. All trade unionists and others fighting to defend workers' rights should come to the conference.
Saturday 27 June, 11.30am – 4.30pm
South Camden Community School, Charrington Street, London WC1 (Near Euston and Kings Cross)
Keynote speakers from workers in struggle including Rob Williams (see front page), Lindsey Oil Refinery construction workers, car workers, London Underground, local government, and more.
Delegates fee £5. Visitors welcome.
Messages of protest to:
Messages of support to:
Donations to the campaign to: Linamar workers hardship fund, 31 Waun Wen Terrace, Swansea SA1 1DX,
Please make cheques payable to T&G 4/1 branch or pay direct to bank account no: 20055051, sort code: 08 60 01.