Link to this page: https://www.socialistparty.org.uk/articles/7410
Posted on 8 June 2009 at 0:00 GMT
The Masses Arise
By Peter Taaffe
New edition out now
---
>
Buy The Masses Arise by Peter Taaffe
---
>

Peter Taaffe
The Socialist Party is taking orders from party branches and book sellers for the new edition of Peter Taaffe's work on the French Revolution, The Masses Arise: The Great French Revolution 1789-1815.
The new edition, which will be out in a few days, has a new introduction and two new appendices.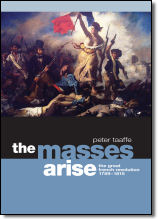 The Masses Arise by Peter Taaffe, design Dennis Rudd
The cover price is £10 for commercial sales. Bulk orders will be available at a slightly lower price. Socialist Party branches will be able to use the price difference on sales to raise fighting fund.
This is a timely re-publication. The decay and decadence of the 18th century French ruling class which was overthrown in the French Revolution of 1789 has clear parallels with the MPs' expenses scandal and the discrediting of today's 'political class'.
An understanding of the French Revolution remains crucial for all revolutionaries. Marx, Engels, Lenin and Trotsky studied it intensely to gain an understanding of the dynamics of revolutions.
---
>
Buy The Masses Arise by Peter Taaffe
---
>
The Masses Arise: Bulk price £6.00 each for orders of five or more
Postage and packing free for bulk orders to SP branches within the UK
For orders of four or less, a special pre-publication price of £7.50 each still applies.
Normal price: £10
Alternatively contact Sean Figg on 020 8988 8779 or email seanfigg@socialistparty.org.uk to discuss orders and bulk orders.
---
>
We will be producing posters and leaflets to assist sales to local bookshops, universities and libraries.
Why not click here to join the Socialist Party, or click here to donate to the Socialist Party.
---