Link to this page: https://www.socialistparty.org.uk/issue/584/7451
From The Socialist newspaper, 17 June 2009
Tube workers on strike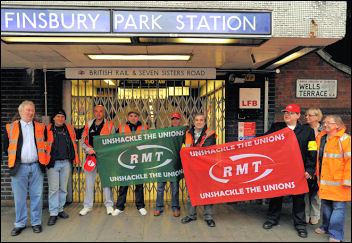 London Underground strike of RMT tube workers, photo Paul Mattsson
RMT members on London Underground were on 48-hour strike from 9-11 June. This reduced the tube to a skeleton service, staffed by untrained office staff and Aslef and TSSA members who had been told by their union leaders to cross picket lines. Many rank and file members of both unions ignored this call and joined the strike.
A London Underground worker
Management and the RMT had agreed a deal to call off the strike but that was scuppered at the last moment. The RMT suspect that this was after management spoke to politicians at City Hall.
Management and the London Evening Standard have engaged in a campaign of misinformation and lies that would not have been out of place in Stalin's Russia. The Evening Standard claimed the strike was ineffective, but berated us for causing misery to the England fans who were unable to make the game against Andorra at Wembley. Evening Standard sellers proclaimed that thousands had ignored the strike call - outside stations closed due to strike action!
The strike was virtually 100% solid. This was despite unprecedented intimidation and a letter sent to all staff urging them not to strike. On my own group of stations, three members of TSSA took out joint membership of the RMT so they could strike, including one TSSA member walking off the job.
Seeing that we were standing up to management, one non-member phoned me up, asked if the action was still taking place and filled in a RMT membership form to take strike action.
We put out a leaflet to passengers explaining why we were on strike. This was met by support from the vast majority, especially when we explained it was about fighting redundancies. One of my regular customers gave me a big hug for going on strike.
Most of the three million people who use the Underground face the same attacks in their workplace and many respect us for taking action.
The strike only went ahead when Mayor Johnson's office intervened, turning this into a political strike - an attempt to take on and defeat the RMT. If needs be we will strike again in order to defend our jobs, conditions and pay.
The Mayor wants a no-strike deal. There is more chance of Margaret Thatcher being given life membership of the National Union of Mineworkers than of that ever happening.
---
>
Martin Reynolds spoke to Frank, a train driver and RMT rep, on the Arnos Grove picket line: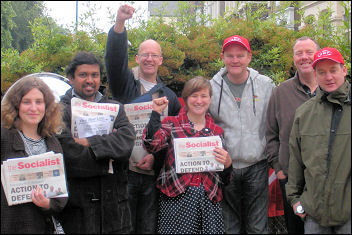 Tube workers at Arnos Grove with Socialist Party members, photo by Sarah Sachs Eldridge
"The way management have treated us over the last couple of years has got a lot worse. Disciplines, getting maximum warnings, there's a whole raft of issues. They're talking about 1,000 compulsory redundancies, and we know that's the tip of the iceberg - it could go to 3,000 job losses and we've got to finally make a stand.
We did have an agreement in 1998 with the PPP (public-private partnership) agreement that there'd be no compulsory redundancies and they're going back on this agreement. They've also got an agreement that you'd be offered an alternative job position and that's been thrown out the window as well.
There's a new style management coming in who've never worked on the job.
We're being treated a lot worse now and we've got people coming to us asking what the union are doing about it. It's a case of the membership leading the union now, where before the union had to stir the membership up. People have realised that if we just sit back the management are going to come for us. There's a new type of militancy which I haven't seen from the membership before.
I've been a rep for four or five years and a train driver for twelve, but I think people are realising now that if we don't stand up, management are going to go all over us."
---
>
Political representation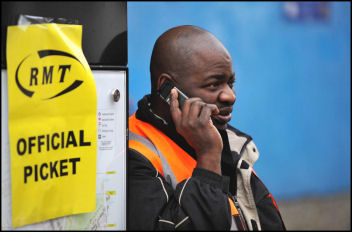 London Underground strike of RMT tube workers, photo Paul Mattsson
Eight RMT members from the TFL No.1 branch were picketing their offices at 6am on the first day of the strike. This branch represents some white collar staff in Transport for London (TfL) who work on Congestion Charging and parking enforcement.
Lindsey, one of the strikers, said that they had already lost 100 posts out of 300, and were determined to resist further cuts. Despite having the smallest membership in TfL, they had won some victories, such as winning a colleague a £3,000 pay increase.
The strikers were boosted when the driver of a van who turned up outside to do some work in the offices offered not to cross the picket line. He backed the dispute because he had been a miner in Kent during the 1984 strike, although it turned out that he was actually there to work for another organisation in a different office so the pickets said it would be OK if he went in.
All the RMT members there said that they had voted for the No2EU, Yes to Democracy list in the Euro elections, and they supported the idea of standing workers' candidates again in the general election.
Pete Dickenson
---
>
The "stroppy line"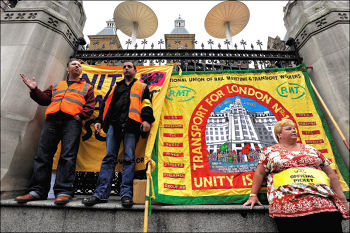 London Underground strike of RMT tube workers, photo Paul Mattsson
On the first day of the strike only three Hammersmith and City line trains moved from Hammersmith - usually there are 80! The RMT members explained: "We're known as the Hammersmith and Stroppy line".
Workers were incensed at the propaganda in the press, especially the London Evening Standard. All the time while RMT leader Bob Crow was standing in the European elections the Standard didn't say a peep about him. Now he is all over the paper, with the dispute ridiculously being portrayed as a personal stand-off between him and Tory mayor Boris Johnson. The free paper given out on the tube, the Metro, basically presented the issues as: 'Boris Johnson said the claims of the union were b******ks. Bob Crow said the claims of management were f******* b*****ks."
Workers were very clear, though, that this is a fight for the future. Thousands of jobs could go. These RMT members were conscious that they are seen as one of the strongest unions in London, and that if they accept these huge attacks without a fight, attacks on other workers will follow.
Paula Mitchell
---
>
Northumberland Park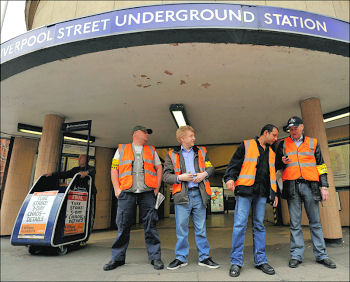 London Underground strike of RMT tube workers, photo Paul Mattsson
RMT pickets at the Northumberland Park Depot (North Tottenham) were well prepared for the two-day strike. Beneath a large marquee, sausages were cooking and coffee and tea brewing.
There was only a shuttle service on the Victoria Line and tubes were not stopping at the central London stations.
While I was talking to the pickets, the two transport police stationed at the depot entrance reprimanded the strikers for "standing in the road and staring into cars at workers crossing the picket line", as this was "intimidating". They also reminded them that they could only have four pickets ! One of the police even said that his shift finished soon but that he would relish arresting any of them as this would mean being paid overtime.
The Red Line bulletin produced by Socialist Party members was carefully read.
Jane James
---
>
Red flags at Seven Sisters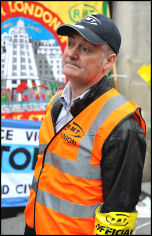 London Underground strike of RMT tube workers, photo Paul Mattsson
Red RMT flags flew from lampposts at Seven Sisters station in a show of strength by picketers. About seven people attended a well organised picket complete with stove, banners, flags and shelter.
David Convery
Despite police intimidation, the mood was one of defiance. The strikers felt completely justified and said that they had received a lot of support from the public despite the reports to the contrary in the press. There were very willing to engage in discussion with the Socialist Party and gave us a strong welcome when we arrived at the picket line.
An important issue to them was the leadership of Aslef, who instructed their members to cross the picket lines. As a result of this and a weakening of the traditions of the labour movement, a number of workers did try to cross the line. Instead of attacking them, the strikers tried to discuss in a fraternal manner with them, emphasising that this was their fight too.
This convinced one person, but the position of the Aslef leadership was too much for others and five or six did cross the line while we were there. The strikers felt that only one of these could be described as a scab.
The No2EU European election campaign and the Socialist Party's call for a new workers' party also gained a good echo. Most importantly, the strikers agreed they would come out again and again if necessary.
---
>
District line strike success
There was a friendly welcome from the RMT pickets at the Upminster depot in east London.
The pickets were mainly maintenance workers but there was a tube driver there as well.
Several drivers went to work but no trains moved in or out of the depot on either strike day, meaning that London Underground were not able to operate any sort of service on the eastern part of the District line. There was good support from passing bus drivers.
The pickets are very determined and were discussing how to develop the strike should further action be necessary.
Chris Newby
Why not click here to join the Socialist Party, or click here to donate to the Socialist Party.
---
In The Socialist 17 June 2009:

Tories or New Labour - it's cuts, cuts, cuts!

A rat on Labour's sinking ship

Prepare for class war!

News in brief
---
International socialist news and analysis

Iran - mass protests erupt

Only working class action can end war threat in Korean peninsula
---
Socialist Party editorial

Recent industrial disputes bring important lessons for the future
---
Postal workers

Standing up to bullying mail bosses

CWU conference: Fighting for jobs and working conditions
---
Lindsey Oil Refinery construction workers

Lindsey workers fight the bosses' redundancy scam
---
Socialist Party workplace news

Victory at Linamar! Rob Williams reinstated

National Shop Stewards Network conference

Tube workers on strike

Glasgow cleaners score success
---
Anti-racism

Defeat the BNP: Build a socialist alternative

Protests at BNP
---
Socialist Party review

Billy Bragg's Miners' Strike Tour
---
Home | The Socialist 17 June 2009 | Join the Socialist Party
---