Link to this page: https://www.socialistparty.org.uk/issue/586/7497
From The Socialist newspaper, 30 June 2009
No to mass youth unemployment
Decent jobs not poverty schemes!
Fortnight of action 27 June to 10 July - Join the protests!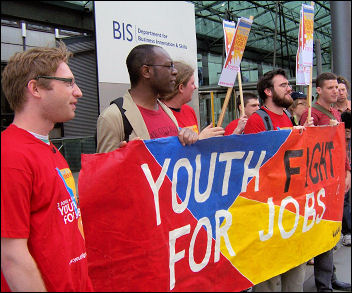 Youth Fight for Jobs protest outside Mandelson's office, photo Ben Robinson
Young people make up 21% of the population, but 40% of all those unemployed. In an increasingly decimated jobs market, many young people understandably expect help finding work from the government. But, many are liable to be disappointed.
Sean Figg, Youth Fight for Jobs national organiser
The government has announced a 'Young Person's Guarantee' to tackle youth unemployment. In the next two years £1 billion has been promised, but as details emerge of the government's new 'Future Jobs Fund' (FJF) it appears to be woefully inadequate.
The FJF boasts jobs for 250,000 young people. However, only 150,000 of these will be 'new' jobs. These jobs will be required to pay at least the minimum wage, but as always, the devil is in the detail.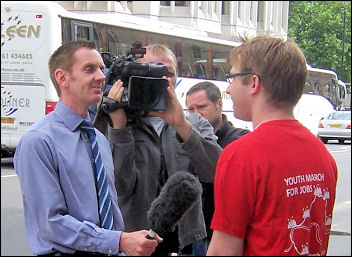 Youth Fight for Jobs protest outside Mandelson's office, photo Ben Robinson
Gordon Brown has announced that those who refuse a "suitable job offer" could lose two weeks benefit, four weeks if they turn a job down a second time and 26 weeks for a third time.
Plus only a minimum of twenty-five hours needs to be guaranteed. With the minimum wage rate for 18 to 21-year olds a measly £4.77 an hour, this could leave young people with as little as £119 per week - hardly a living wage! 16 and 17 year olds are not eligible to take part in the scheme at all, despite having an unemployment rate of over 30%, the highest of any age group.
But this scheme is only for the 'long-term unemployed', by the government's accounting this means having twelve months on the dole under your belt.
So most unemployed youth will not be able to take part. And then these 'jobs' are only required to last six months - then back to the dole queue to sign back on. There is more than a whiff of trying to massage the unemployment statistics in this scheme.
The Centre for Cities think tank projects that by the end of 2011 long-term youth unemployment will treble to 350,000. That's 100,000 more people than the FJF will finance and 2011 is the point at which the fund will be used up! What then? Even as far as long-term youth unemployment goes, the scheme is not enough.
It is also extremely unlikely that the full £1 billion will reach those that need it the most. The 'all-comers welcome' bidding process that will determine the allocation of funds could see private companies and charities siphoning off a portion of the money in 'administration costs'. This is not a public works scheme, but another private-public arrangement whereby the private sector will be able to profit at tax-payers' expense. The lesson of the banks is wasted!
All the major political parties are warning of the massive public sector spending cuts that will be necessary over the coming years. The 'Future Jobs Fund' is another demonstration that the real savings that could be made by planning and implementing job creation schemes directly in the public sector will not even be considered.
Huge waste through privatisation and subsidies to private organisations and businesses will continue. Again ordinary workers and youth are being made to carry the burden of this crisis. The best guarantee for a decent future is for young people to get organised in campaigns like Youth Fight for Jobs.
Donate to the Socialist Party
Coronavirus crisis - Finance appeal
The coronavirus crisis has laid bare the class character of society in numerous ways. It is making clear to many that it is the working class that keeps society running, not the CEOs of major corporations.
The results of austerity have been graphically demonstrated as public services strain to cope with the crisis.
The government has now ripped up its 'austerity' mantra and turned to policies that not long ago were denounced as socialist. But after the corona crisis, it will try to make the working class pay for it, by trying to claw back what has been given.
The Socialist Party's material is more vital than ever, so we can continue to report from workers who are fighting for better health and safety measures, against layoffs, for adequate staffing levels, etc.
Our 'fighting coronavirus workers' charter', outlines a programme to combat the virus and protect workers' living conditions.
When the health crisis subsides, we must be ready for the stormy events ahead and the need to arm workers' movements with a socialist programme - one which puts the health and needs of humanity before the profits of a few.
Inevitably, during the crisis we have not been able to sell the Socialist and raise funds in the ways we normally would.
We therefore urgently appeal to all our viewers to donate to our special coronavirus appeal.
---
In The Socialist 30 June 2009:

Militant action pays!
---
Youth fight for jobs

Decent jobs not poverty schemes!
---
Socialist Party editorial

Victories show the way forward for struggles

Total's fat fingers in every pie

"We came out with Lindsey and we'll go back with Lindsey"
---
Socialist Party campaigns

New Labour's house building plans amount to just a drop in the ocean

Pride not profit - London Pride Saturday 4 July

Crisis looms in FE colleges

Tower Hamlets demo

Councils try to gag us

Campaign to save Lewisham Bridge school continuing

Fast news

BNP: Looking beneath the suits
---
National Shop Stewards Network

National Shop Stewards Network Conference Confident and enthusiastic
---
Socialist Party Marxist analysis

25 years ago: Liverpool - a city that dared to fight
---
Workplace news and events

Glasgow council: Social work dept staff start all-out strike

Justice for the Shrewsbury pickets march and rally

Construction industry in major crisis
---
Home | The Socialist 30 June 2009 | Join the Socialist Party
---