Link to this page: https://www.socialistparty.org.uk/issue/588/7546
From The Socialist newspaper, 21 July 2009
Corus... Vestas... Defend every job!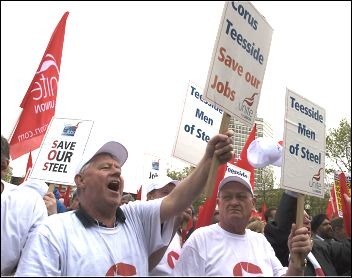 Corus workers protest, photo by Paul Mattsson
Around 5,000 people marched in Redcar, Teesside on 18 July, in support of the Save our Steel campaign. This has been set up to defend the 2,000 Corus steel jobs at risk. Plants in Teesside, Scunthorpe and Rotherham are under threat, on top of thousands of job cuts in January. Corus is owned by the Tata Steel conglomerate which made a £2.8 billion profit in 2007-08.
John Malcolm, Teesside Socialist Party
The march was organised by Unite and the steel industry union Community. Steel workers were joined by their families and supporters from the community and workers from other steel plants across the UK.
Unite leader Derek Simpson was one of the main speakers at the rally. He was applauded for calling on the steel industry to receive the same level of government support as the banks and finance industry. But Vera Baird, one of the local Labour MPs, was booed from the outset and came under fire when all she mentioned was setting aside £5 million for retraining of redundant steel workers.
Speakers spoke passionately about the impact the loss of steel production would have on the local economy and about the knock-on effect of unemployment in firms servicing the steel plant.
Teesside has lost most of its steel production since the 1980s and the chemical industry has also been scaled down. 150 dock workers also face redundancy due to falling imports of coke and iron ore.
One Corus worker, Frank Harrison, brought his own banner which condemned greedy MPs and the banks. He said: "The steel industry needs to be renationalised... today's Labour Party is no different to the Tories". Many of those on the march shared his views.
This was a great show of support for Corus workers. But what was missing was a strategy or plan to take the campaign forward or demands to occupy the plant to fight against it being closed down. Demands were made for subsidy but no clear call for renationalisation under workers' control with a plan for steel production for socially useful projects.
Bail out the workers not the bankers.
No redundancies - share out the work.
No attacks on pay and conditions.
No to concession bargaining.
The steel industry - alongside the construction and car industries - should be renationalised under democratic workers' control.
Why not click here to join the Socialist Party, or click here to donate to the Socialist Party.
---
In The Socialist 21 July 2009:

Corus... Vestas... Defend every job!
---
No Job Cuts

Vestas: Support the occupation

Vestas jobs fightback

Action to save steel jobs at Corus
---
Unison witchhunt

Defend the Four: Protest at the Unison witch-hunt

Unison witch-hunt verdict causes outrage amongst trade unionists
---
Youth fight for jobs

Youth fight for jobs fortnight of action
---
Workplace news

National strike action to halt attacks on workers and our postal services

Tube workers' action wins concessions

South Yorkshire First Buses strike over pay

London Met Uni strike

Every little helps Tesco's as they attack workers

Teachers strike against job cuts

Care homes public meeting
---
Pensions

Union action to fight the attacks on our pensions

Pensions - in brief

Pensions: We say
---
Anti-racism

BNP get police to arrest socialists

Lincoln fights back against racist BNP

Stop the BNP's 'festival' of hate

Rock Against Racism
---
Socialist Party campaigns

Keep Deptford Jobcentre open!

Build the Tamil Solidarity campaign

Devon residents against incinerators: Alternative waste schemes needed

Another stepping stone towards health privatisation
---
Marxist analysis: history

20th anniversary of Soviet miners' strike
---
Comment

40th anniversary of the moon landing What steps has humanity taken?
---
Home | The Socialist 21 July 2009 | Join the Socialist Party
---