Link to this page: https://www.socialistparty.org.uk/articles/7577
Posted on 24 July 2009 at 0:00 GMT
Unison witchhunt against Socialist Party members
Sentence Has Been Passed On The Four - A Ban From Office For Three Years!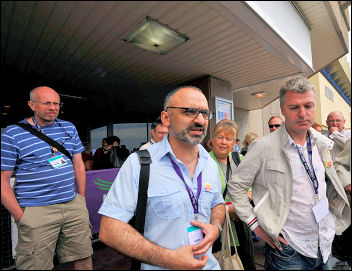 Three of the four, Brian Debus, Onay Kasab and Glenn Kelly, at Unison conference 2009. photo Paul Mattsson
Four Unison members, Glenn Kelly, Branch Secretary of Bromley Unison and Unison national executive, Onay Kasab, Branch Secretary Greenwich Unison, Brian Debus, Branch Chair Hackney Unison and Suzanne Muna, Branch Secretary Unison Tenant Services Authority, have been banned From office for three years
Protests Urgently Needed
Please inform other trade unionists about the disgraceful punishment of the four.
Protest letters to Dave Prentis are needed. Please click Letter of Protest (Word doc) for standard letter to sign (or compose your own.)
Please see background information and details of the charges (Word doc)
---
>
LOBBY UNISON HQ
A lobby will take place on Thursday 30th July outside the Unison HQ
Mabledon Place, London WC1H at 12 noon.
---
>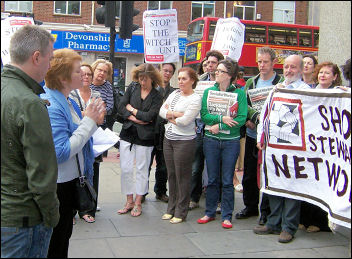 Suzanne Muna speaks to the lobby of Unison disciplinary hearings against four Socialist Party members, photo Alison Hill
Other protests and meetings will be announced shortly.
---
>
Donations to the campaign are also needed
Please make cheques payable to: 'Stop the Witch- hunt' and post to: Defend the Four Campaign, PO Box 858 , London , E11 1YG
---
>
Send your protests to:
Unison HQ
1 Mabledon Place
London WC1H 9AJ
Telephone: 0845 355 0845
Please Send copies of protest statements to:
Defend the Four Campaign, PO Box 858 London E11 1YG or email info@stopthewitchhunt.org.uk
Check out www.stopthewitchhunt.org.uk for further updates
Why not click here to join the Socialist Party, or click here to donate to the Socialist Party.
---