Link to this page: https://www.socialistparty.org.uk/issue/590/7619
From The Socialist newspaper, 11 August 2009
Editorial
Vestas - occupation ends but the fight continues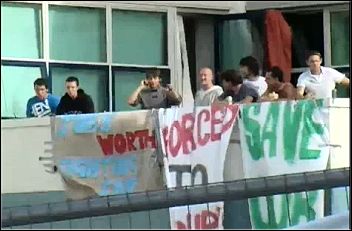 Vestas wind turbine plant workers occupy to protest against redundancies, photo RMT television
The courageous workers' occupation at the Vestas wind turbine plant in Newport on the Isle of Wight has been followed and supported by many in the trade union movement over the last few weeks. After 18 days in occupation, the first stage of the campaign against job losses has come to a close, but workers have made it clear that their fight will go on.
Hundreds of workers from the island and Vestas workers' families and supporters converged on the factory on 7 August to show their support for the remaining occupiers as the bailiffs arrived to remove them. RMT (Rail, Maritime and Transport workers' union) flags and officials, including Vestas workers who have become RMT shop stewards over the course of the last few weeks, showed the exemplary role the RMT has played in backing the occupiers to the hilt.
Now, that support must be turned outwards to the wider trade union movement to continue to build on the pressure that the government and the employer have felt throughout the occupation.
There are 625 jobs on the line at Vestas and currently only 124 job vacancies on the entire island! The economic crisis that greedy bosses and pro-market politicians have helped mould means this fight is more critical than ever and that any attacks on working people, both on the Isle of Wight and across the UK, are more sharply felt.
For over a fortnight, the occupation at Vestas sustained high-profile media coverage, from the New York Times to Newsnight. It has shown an anti-union employer that they cannot treat workers in the callous manner that they have and expect to get away with it. It has acted as a beacon to other workers, with sit-ins, like at Thomas Cook in Dublin and elsewhere, being inspired by it.
On 6 August, for the first time, it also forced the government to the table. Energy minister Joan Ruddock met with a delegation, including Vestas occupier Mike Godley and RMT general secretary Bob Crow.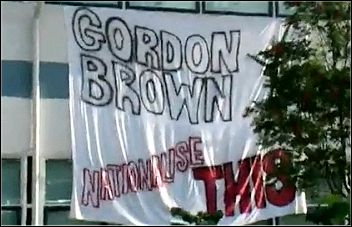 Vestas wind turbine plant workers occuping to protest against redundancies demand nationalisation, photo RMT television
Ruddock claimed the government had done all it could to keep the factory open, including apparently offering to buy Vestas, but Vestas management refused.
If Ruddock is to be believed, Vestas intend to leave the site dormant to possibly reopen further down the line. What sort of a world is it where skills can be thrown out on the scrapheap even when there is a social need for them? The government should be forced to take over Vestas, with compensation paid to shareholders only on the basis of proven need, whether Vestas managers like it or not.
Pressure from across the trade union movement now needs to be built, while Vestas workers on the Isle of Wight need to discuss the best tactics they can employ to further their case. A recent meeting of Vestas workers agreed to organise 24 hour pickets at the factory; this could strengthen the struggle and it is important that as many workers as possible are involved in this action.
The best solution to save jobs and the environment is nationalisation. But whether this is achieved or not, an immediate demand of the workers' movement must be to reinstate the redundancy rights of those who occupied.
Dismissed in a pizza
Almost a week into the occupation, they were served dismissal notices hidden under pizza! This heartless tactic means that those courageous workers who took a stand are not 'eligible' for redundancy payments. An appeal on the grounds of unfair dismissal is being lodged by the RMT. Messages of support, trade union branch resolutions, letters of protest to the employer and other means to express anger at the dirty tactics of Vestas bosses are needed.
This dispute has shaken the entire Isle of Wight. The main political parties have been exposed in the eyes of many by not supporting the Vestas workers. Labour MPs in Portsmouth and Southampton refused to even sign petitions in support of them. The Liberal Democrat Simon Hughes appeared outside the Newport factory for what was effectively a 40-minute party political broadcast, but refused to directly state that he supported the occupation or that the occupiers should get their jobs back - he was only clear on his opposition to nationalisation!
Workers at Vestas have waged a heroic struggle and shown their strength on the industrial front. But imagine how much easier the fight would be if a political party with a national profile could throw its weight firmly behind them. At present, there isn't a mass political party in Britain that stands in workers' interests. Rather, New Labour helped push through the pro-market employment laws that make it legal for Vestas to dump workers in the Isle of Wight and move to the United States without so much as a by-your-leave.
When it comes to the next elections, why shouldn't one of the Vestas workers consider standing? A workers' councillor or MP on the island would be an important step towards a working class party that could play a decisive role in struggles like this one in the future. In the meantime, much can be done by the trade union movement to ensure that the Vestas workers can move on to achieve at least some of their crucial demands.
Why not click here to join the Socialist Party, or click here to donate to the Socialist Party.
---
In The Socialist 11 August 2009:

Jobs & services - not bankers' bonuses!
---
Anti-racism

Stop the BNP
---
Vestas

Vestas - occupation ends but the fight continues
---
International socialist news

Thomas Cook occupation, Dublin: "A living lesson for workers everywhere"
---
Workplace news

Postal workers: National ballot to follow strike wave
---
Unison witchhunt

Protests flood in against Unison witch-hunt
---
Marxist analysis: history

August 1969: Northern Ireland explodes - 'the troubles' begin
---
Socialist Party youth and students

New term approaching for students: Build the fightback!

Demonstrate Saturday 28 November in London

Higher education: Don't make young people pay for funding crisis

Internships = Exploitation

Grim prospects for young people
---
Anti-racism

BNP loses council by-election

Racists left speechless

Anti-fascist demo in Birmingham
---
International socialist news and analysis

South Africa: A cold winter, but mass action shakes Zuma

Afghanistan: 40 years of failure?

Torturous explanation
---
Workplace news and analysis

Industrial action works

Defend Corus workers' terms and conditions

Liverpool street cleaners and bin workers strike against fat-cats

Surrey council must buy back these homes now!

Engineering construction ballot

Rail strikes

South Yorkshire bus drivers plan more strikes
---
Labour history comment

Bryan Stanley's canonisation
---
Home | The Socialist 11 August 2009 | Join the Socialist Party
---